No Comments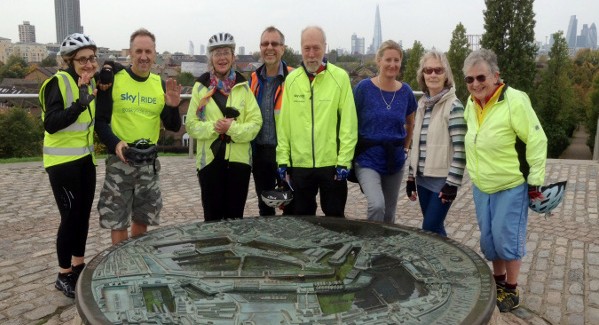 by Bruce Lynn October 11, 2015
10 o'clock at Canada water on a bright Autumn morning. 15 riders assembled for a gentle meander around the Rotherhithe area, with just a small incursion into Deptford. Started round Greenland and South Docks to the Deptford riverside. Then back to Greenland Passage where we stopped to wave to the passing Waverley. The restored Clyde steamer was a fine sight, jam-packed with passengers waving back from every available deck.
Continued along the river westward to Durand's Wharf. Stopped and discussed how fine things would be when the projected Brunel Bridge provided cycle and pedestrian access to Canary Wharf. From here a short excursion towards Russia Woodland via the Holyoake path and the bridge over Salter Rd. Unfortunately the new building at Blondin Way has closed the path for now, so we diverted via Downtown Road. Russia Woodland looked its autumnal best. After a short circuit we looped back to the river at Pageant Crescent and continued to Surrey Water. Here we made a second foray into the hinterland, arriving eventually at Stave Hill which some of us ascended (see picture). From Stave Hill back to the river via Dock Hill Avenue. There we observed in wonderment the fine fountain – all restored and making a fine sight. In 20 years had never seen this fountain fountaining. Apparently it began working again about a month ago.
Next headed round by the Thames Path to King Stairs Garden and across to Southwark Park. We noted some significant improvements being made in sports facilities. Two new tennis courts, plus the original 2 resurfaced (not reopened yet) and the work on restoring the athletics track in busy progress even on a Saturday morning. Again, in 20 years, have never seen this track in use. Will be a while before that work is finished, but will be excellent when that is the case.
Back at Canada Water just before 12 noon. A pleasant and instructive ride. 13.8km on my phone app; route at https://goo.gl/Y8KoWy