No Comments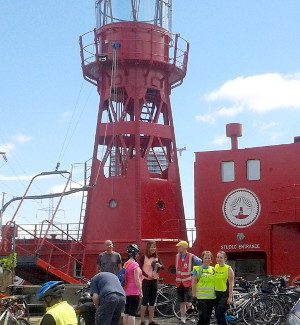 by Bruce Lynn July 17, 2016
Ride Report, July 16th, 2016.
Healthy Ride +
Cutty Sark to Trinity Buoy Wharf
Lovely sunny day – first really warm day of the year. And 31 riders turned up – another record on this record breaking year. Off at 9.35 through the Greenwich Foot Tunnel with cyclists packing into the lifts. Then through Mudchute Park and eventually to the Limehouse Link towpath. Plenty of pedestrians, so this was slow going but made it to the Lee Navigation, over Bow Lock and along towpath to 3 Mills.
Next towards Stratford High St, but turning off on to the Greenway. Past the Amazing Abbey Mills Pumping Station then on to a short cut via rather unprepossessing roads to end up at Trinity Buoy Wharf. Had a 15 min break. Some sought sustenance in the café (not the Diner – this has a board saying "To Let", so an opportunity for someone!). Others explored the Wharf. The lighthouse was open with the never-ending music (16 years and 167 days without repeating itself) running.
Return was via the east side of the Isle of Dogs, again cutting off some of the planned route. But meant we were back negotiating the Foot Tunnel at about 12.40. Some logistical issues with such a large group, but we kept together and the sunshine assisted in making this an interesting and enjoyable ride. "The best ride yet", according to one regular healthy rider!
This is today's track although you shouldn't believe it completely, the tall buildings in Canary Wharf confuse it:
http://taffimai.w2.org.uk/healthy-rides/HR-CSG-Trinity-20160716.html
More photos at
https://goo.gl/lsSkJk