No Comments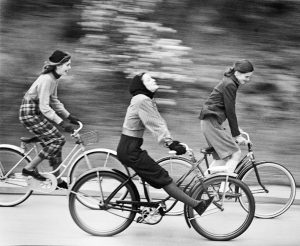 Blazing Saddles – a new cycling and dance project  
Bicycle Ballet is delighted to announce our new production, Blazing Saddles, an outdoor performance celebrating women & cycling & fashion, commissioned by Southwark Council & funded by Arts Council England. Part choreographed and part improvised, the show will be performed by a core of five professional performers and thirty local people from Southwark.
There's a general outline of the show & participation at this link: http://www.bicycleballet.com/2015/06/blazing-saddles/
The Bicycle Ballet Company 
The company creates exhilarating outdoor dance performances on bikes, exploring the joyful highs and gritty lows of cycling. The choreographies fuse dance and physical theatre with visual spectacle, comedy and striking soundtracks. Initially conceived as a mass participatory performance, engaging people and their bikes in new, exciting and unexpected ways is still at the heart of the project. The work is created for outdoors, to cross the boundaries of art, sport, health and environment; to attract the widest range of audiences or passers-by, and to transform familiar environments into places of discovery and magic. But, at its heart, its all about the bike. Expressing the freedom and fun of cycling, and exploring people's partnerships with their trusty steeds
Get Involved! 
Volunteers will work with choreographer Janine Fletcher & the creative team to develop choreographic structures and improvisations around the show's core concept – the issues, ideas and fashions of women cycling through history to the present day. 
Bike Ballet are also looking for some experienced lead riders who to lead the community cyclist groups. Blazing Saddles will be created over a series of rehearsals late August/beginning of September, leading to performances around the Dulwich area on 17th September. A detailed schedule is still being worked out. 
The plan so far is as follows: 
Sat 20th Aug – a 2 hour introductory session with performers & participants, exploring concepts in the show and creative tasks led by the choreographer, fun & relaxed!
Either Mon 22nd or Tues 23rd Aug – Participant workshop, creating content for the show.
Followed by 3 x 2 hour sessions creating content for the show in the two weeks beginning 5th Sept and 12th Sept.
Show day is 17th Sept – warm up & morning run through, followed by the performance.
If you're interested in getting involved or would like to find out more, contact: veronica.stephens@hotmail.com