No Comments
Quietway 1: 130% increase in cyclist numbers
Recently (Aug 3rd and 9th) counted again at the Dunton Road crossing in Bermondsey. Counted during the morning and afternoon peak on a midweek day, repeating counts made previously in January 2016 and late July/early August 2014. This route was part of LCN22. As part of the Quietway programme this junction was signalized in Nov 2015. Quietway 1 was "launched" in June 2016. Data from the am counts is shown in the Table and Histogram below.

Counts for January have been increased by 50% to make them equivalent to July/Aug counts. Counts were made for 15-40min and recalculated as cyclists per hour.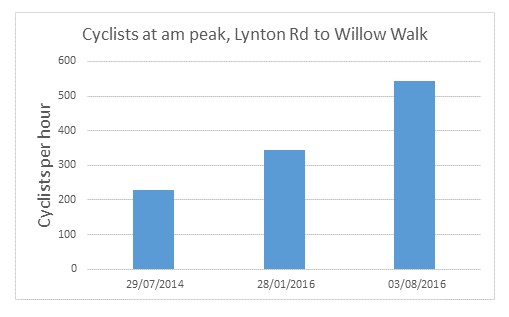 Counts in January were already up on those expected for July compared with 2014 (see previous post on Jan 31st, 2015)
Morning counts on August 3rd are spectacularly up. On the Q1 route from Lynton Rd to Willow Walk we now have over 500 cyclists per hour during the am peak, a 138% increase pre Q1 levels. Numbers joining Q1 from Dunton Rd are also up 70%. Numbers using Willow walk are now 728 per hour in the westward direction, heading to central London. This is a 116% increase over 2014.
Evening peak counts are up by a similar amount. There were over 400 cyclists per hour eastbound on Willow Walk, a 102% increase on 2014. Numbers following the Q1 route, WW to Lynton Rd were up 136%. Note pm peak flows are usually lower than am as the pm peak is more spread out.
These counts indicate that since the improvements with Q1 there has been a more than 2-fold increase in peak time cycling on this route. Some of this will be existing cyclists choosing to alter route, e.g. using the Q1 route instead of the Old Kent Road. But hopefully there are also lots of new cyclists choosing to cycle to work now that the infrastructure has been improved.
Report from Bruce Lynn, Southwark Cyclists, 6 August 2016