No Comments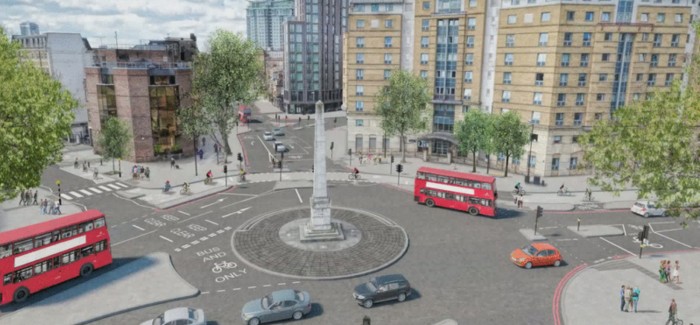 Key conclusions
1. Most southbound cyclists will exit the NS CSH for London Rd; TfL's plans probably will be adequate for this – but may not be.
2. It is madness not to fix the serious E-W problems at the same time as the N-S ones
3. To make the popular E-W routes safe will require a signal phase just for cyclists
1. Introduction
St Georges Circus (SGC) is an important junction on the NS-CSH, probably the most difficult one to get right on the entire Southwark Section. To get the best solution we need to
Look at the network of roads linked to the Circus
Consider how cyclists get on and off the CSH, particularly on to London Rd
Look at the key issues of East-West routes through the Circus
2. Local network and North-South options.
a. SGC takes traffic from 4 Thames bridges – Lambeth, Westminster, Waterloo and Blackfriars.
So lots of E-W traffic as well as N-S. For example at the pm peak on Thurs Oct 2nd there were 306 cyclists/hour exiting Westminster Bridge Road compared with only 170/h coming down Blackfriars Rd.
b. Because the proposed scheme for the Elephant and Castle is poor for southbound cyclists, many will opt to leave the NS CSH at SGC and continue on London Rd. This trend will be more marked if, as we hope will happen, a convenient Eastern bypass route via Elephant Rd is developed. For cyclists heading fo the A3 (Newington Butts) the peninsular route from London Rd also looks much more direct than using St Georges Rd.
c. So will the proposed holding area for the 2 stage ("Copenhagen Left") turn be adequate? There could be 500 cyclists per hour switching to London Rd; with a 120 sec cycle time on the lights that means an average of about 17 cyclists per phase.
d. Southbound from London Rd on to the NS-CSH looks OK.
3. East-West routes.
a. Borough Rd to Lambeth Rd or Westminster Br Rd/Waterloo Rd has a new route proposed across the south edge of the Circus. This is good.
b. Unfortunately it will be difficult for cyclists to access this as motor traffic turns left on to London Rd, cutting across cyclists going straight. An advanced start is offered. This will not be adequate as motor and cycle traffic is high in Borough Rd (110 cyclists per hour entering Borough Rd in the evening peak). Best solution here is to have separate signals for straight on cycle traffic and left-turning motor traffic. A poorer option would be a large ASL so that cyclists could get across to the right side of the carriageway during the red phase on Borough Rd.
c. Westminster Bridge Rd (WBR)/Waterloo Rd to Borough Rd or London Rd. It is nightmarish to watch this at present. Cyclists mix it with motor cycles, cars and vans. All going fast. It is amazing to me that there are so few reported collisions – complement to cyclists reflexes. Shrinking the roundabout will be big help in reducing speeds. But in reality, there has to be a better solution than the one offered in the N-S CSH plans. In fact these plans do not address this problem at all – an example of TfL's blinkered approach to many junction issues. They are going to spend a lot of money getting a reasonable N-S route. Then I suppose come back in a year or so to do the E-W links as part of the Grid, doubling the inconvenience for everyone and wasting a lot of cash.
d. So what is needed to include decent E-W links?
i. There should be a pull off area on the north side of WBR next to the CSH to allow cyclists to join it.
ii. WBR to Borough or London Rds, a massive left hook risk at Blackfriars Rd (300 motor vehicles/h. Pm peak) and on to London rd a similar risk at Borough Rd (again 300 motors/h).
iii. The only safe solution is to separately signal the cyclists – give them their own phase from WBR to the Circus.
iv. The elegant solution is of course, as suggested in previous discussion on this junction with TfL in 2012, to move the obelisk gently to one side a put in a fully signalised cross roads.
Key TfL document: Have your say on a new segregated North-South Cycle Superhighway between Elephant & Castle and King's Cross,  https://consultations.tfl.gov.uk/cycling/northsouth
To comment and make suggestions about Southwark Cyclists response to the consultation, go to the SC Yahoo Group (https://groups.yahoo.com/neo/groups/SOUTHWARKCYCLISTS/conversations/messages)