One Comment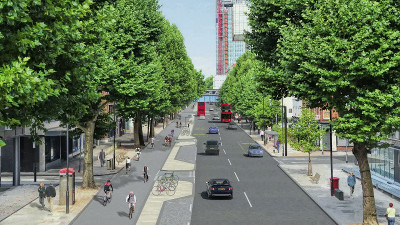 A key proposal from TfL's "Vision"
Creating a North-South Cycle Superhighway from the Elephant and Castle to Kings Cross was a key proposal in the Mayor of London's "Cycling Vision" document (http://www.tfl.gov.uk/corporate/about-tfl/how-we-work/planning-for-the-future/vision-for-cycling) . TfL have now made detailed proposals for most of the route, including all the south of the river part (https://consultations.tfl.gov.uk/cycling/northsouth?intcmp=20888). This is all within Southwark. This document is a designed as the basis for Southwark Cyclists response to the public consultation that ends on Nov 9th 2014. Anyone can respond directly to TfL, and we hope many will. We will also respond as a group and need your input in determining how we do this.
There will be major objections to the proposals from the road transport lobby so our responses need to be measured. So I have tried to be as positive as possible and to make constructive suggestions where there still appear to be issues for cyclists.
Route and context
TfL have gone for a bidirectional, segregated, cycle route on the west side of Blackfriars and St Georges Roads. As a general rule, as set out in the London Cycling Design Standard, unidirectional paths on the correct side of the carriageway are preferable. The reason for the bidirectional proposal is because (1) this works best on the north side of Blackfriars Bridge and (2) it fits in with the proposed bidirectional path leaving the Elephant and Castle that TfL plan to implement over the next year or so.
The main N-S route is fine if you are cycling end to end. But of course most riders will not be doing this. Cyclists will be joining and leaving the route at every opportunity. At some places (e.g between Blackfriars Bridge and Southwark St; between Webber St (East) and Blackfriars Rd) there will be a lot of cyclists moving between the superhighway and other routes. Will now look at each junction in turn.
Blackfriars Bridge south Side
Major cycle traffic along Upper Ground will easily access the NS CSH.
At Southwark St/Stamford St junction the left slip road from Stamford St to the Bridge is going as part of the Blackfriars 1 development. From Stamford St going straight on to Southwark St, cyclists are proposed to move into a middle lane between left-turning and other motor traffic. This is unacceptable. Cyclists should be in a left hand lane with appropriate signalling (separate for left and straight on) to protect from left hook risk.
Getting from Southwark St to the west side CSH is tricky. A special 2 stage left turn is proposed off the bridge. This should be fine. But how do cyclists to get from Southwark St to the CSH? They are clearly expected to go straight across then join the CSH on the south side of the junction and wait for a N-S green to proceed. This will work fine, but needs some road markings and an appropriately placed signal.
Hopefully in a few years time the planned access from Hopton St to Upper Ground, with a nice direct route for NR4, will take a lot of cyclists off Southwark St (see https://southwarkcyclists.org.uk/improvements-planned-for-nr4-near-blackfriars-bridge/).
Colombo/Burrell; Maynott/Nicholson
CSH has priority over side turnings. Looks OK at these minor junctions.
Union St/The Cut
Important as popular cycle routes and part of proposed Central Grid. Banned left turn from Blackfriars Rd to The Cut is good. As with Southwark St, 2 stage right from Blackfriars rd to Union St looks Ok. However, converse, Union to Blackfriars, needs clear markings to allow 2-stage right.
Ufford to Valentine (3b – Blackfriars Rd)
Ufford St to close to motors, which is good. No way for cyclists to make east-bound links to Pocock or Surrey Row. As little used, may not matter.
Webber St
This is important as Quietway 2 meets the NS CSH here and a lot of cycle traffic will move between the 2 routes in all directions. As with previous junctions, there is provision for 2-stage left from NS CSH to Webber St (East). But need some marking to direct cyclists from Webber St east branch to make 2 stage right on to CSH. On CSH going north there is delayed left turn for motor traffic to protect cyclists from left hook risk. But in practice our counts show only 4 motor vehicles per hour making a left here.
St Georges Circus
This is the most difficult junction. Tightening the circus and creating more pedestrian space is good. No facility is provided, however, for cyclists leaving the CHW and going down Borough Rd (now proposed as part of Southwark Spine route (http://www.london-se1.co.uk/news/view/78950)) or on to London Rd. A previous post deals with St Georges Circus (link)
Lambeth Rd/St Georges Rd
Lambeth Rd is buses only and should be fine. St Georges Rd plans look OK. Cycle path has priority at side junctions except Garden Row. Here road narrowed to one lane so should be easy to cross. Re-alignment of CS7 crossing is useful.
Conclusions
Using west side bidirectional path creates problems. Most have been addressed but how cyclists get from east side approach roads on to the CSH needs to be made more clear. In most cases will require clearly marked 2 stage right turn.
Biggest issue is at St Georges Circus where much more work is needed to ensure popular routes from east and west are safe.
I have focussed on problems, but overall this is a welcome scheme and is well-engineered from a cycling viewpoint.
To comment and suggest aspects of Southwark Cyclists response, go to the Yahoo group (https://groups.yahoo.com/neo/groups/SOUTHWARKCYCLISTS/conversations/messages)