One Comment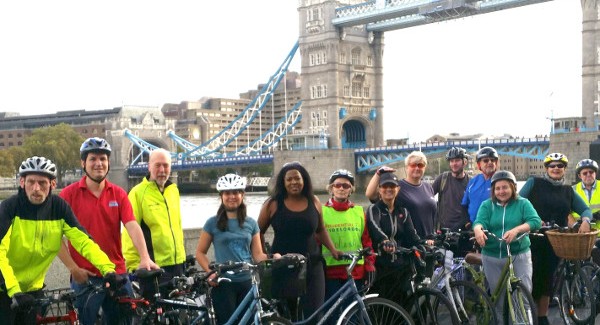 by Bruce Lynn October 20, 2014
15 riders headed off at 9.30 from Canada Water with Philippa leading and David and Bruce assisting. Weather rather nice, with a continuation of the unseasonably warm temperatures of recent weeks. Aim was to follow a route basically along the Thames to Battersea Park. Negotiated More London (see photo), Borough Market and Westminster Bridge steps with care as already packed with visitors. At Westminster Bridge there were lots of people with banners and flags heading north towards the public sector pay demonstration. Crossed the Thames over Lambeth Bridge then a back street route mostly avoiding the embankment to Chelsea Bridge where we crossed back to the south side and entered Battersea Park.
Our leader had found a great café by the lake that was almost empty. Several riders ordered a substantial brunch and there were also delicious Italian pastries on offer. Much discussion of how many calories expended compared with how many being consumed! Refreshed, we headed back along the south side of the river. Trying to get on to the Thames Path after Battersea Power station proved a challenge due to all the new building work. The first road signed to Thames Path along Cringle St reaches the river, but the path is now completely blocked. This still allows access to the houseboats. Reminded me to re-read Offshore, Penelope Fitzgerald's 1979 Booker Prize winning novel based in part on the time she spent living on a sinking houseboat at Battersea (see http://en.wikipedia.org/wiki/Offshore_%28novel%29).
A second inviting access point at new "Riverlight" development also proved a dead end. So finally accessed the river via the longstanding red-brick paved piazza leading to the unimaginatively named Riverside Walk. This is now nicely landscaped past the round St George's Wharf Tower and runs smoothly on under Vauxhall Bridge and to the Albert Embankment. At Lambeth Bridge we met seriously congested traffic that had been diverted due to the demo mentioned earlier. This proved a problem even when we went via The Cut and Long Lane. In the end we completed the ride along Grange Rd and through Southwark Park.
A typically enjoyable Healthy Ride. The annotated route, plus some alternatives, are at http://goo.gl/6cFvhG