No Comments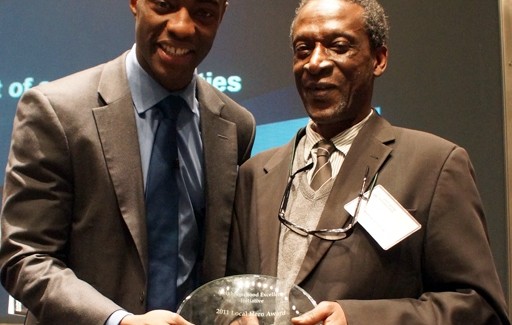 Zimbabwean-born grandfather Richard Muzira was a volunteer film maker with CoolTan Arts. He was a cyclist.  He died under the wheels of a tipper truck at the junction of Albany Road and Camberwell Road on 18 November last year.  A ghost bike left at the scene to commemorate his life was stolen.
Now CoolTan Arts, a mental health and disability organisation which Richard supported, are planning a ceremony to replace the ghost bike.  CoolTan have their annual sponsored walk, the Largactyl Shuffle, this Saturday – 11 October. They will leave the Maudsley with the new bike about 11.30am plan and get to the Southbank around 4pm, installing the bike on the corner where Richard died on the way. He used to film the annual walk so this year they are dedicating it to his memory.
Also on the walk will be Mark McGowan,  the Artist Taxi Driver, artist, performance artist and prominent public protester. By profession a London taxi driver and occasional University speaker and arts tutor, he is known internationally for his performance art including shock art, street art and installation art.
The picture shows Richard Muzira receiving an award for his volunteering with CoolTan.