No Comments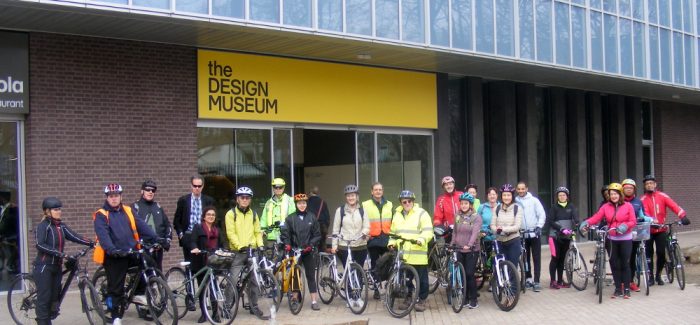 by Bruce Lynn March 21, 2017
The regular Saturday morning Healthy Rides are continuing to be strongly supported in 2017.  Last week (March 18th 2017) was one of the longer "+" rides.  Here is a short report from Jane Champion who led this ride.
24 riders (with a couple of new faces) followed the route as planned. We saw all 'the sights' – Parliament, Commonwealth Memorial Gates, Hyde Park Corner & Apsley House. We virtually had the new South Carriage Drive section of CS3 to ourselves and were treated to the splendid sight of the Household Cavalry exiting Knightsbridge Barracks. A brief detour gave us a closer look at the Albert Hall and memorial before passing Kensington Palace and on to the Design Museum – recently relocated from Shad Thames to the former site of the Commonwealth Institute. Plenty of bike racks available for parking but only enough time for a 15 minute refreshment/comfort stop – must return for a proper look. We managed to stay together in busy traffic on Earls Court Rd but were able to relax a bit on the ride through Brompton Cemetery. Some highlights of the route once we were back South of the river:-
Spring blossom & magnolias in bloom in Stockwell gardens
Volunteer gardeners keeping Van Gogh Walk looking lovely
Newly laid streets & landscaping in Oval Quarter between Brixton Road to Camberwell – a useful and attractive short-cut.
Back at Burgess Park with 10 minutes to spare!
Route at http://gb.mapometer.com/cycling/route_4497331.html.   Or gpx here.
Next ride March 25th, 10am, Peckham Square, 4 Parks & a Prison, see Events listings for details and for information about more Healthy Rides