No Comments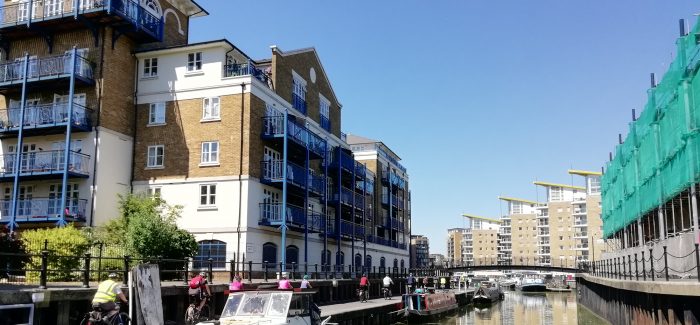 by Bruce Lynn July 1, 2018
One of our regular Healthy Rides on Saturday morning, June 30th 2018.  More information in the Events Calendar or at www.healthyrider.weebly.com.  Many thanks to Werner for designing the route and leading the ride.  Here is his report:
A heatwave didn't deter our determined healthy riders and 27 of them met at Canada Water for a flat +-ride. After the usual route along the river we joined Q14 in Tanner St and, in case anybody had missed the news about the calmed and recently reopened Newcomen St, followed it to reach CS7.  From there across Southwark Bridge up Queen and King St (now been marked as Quietway 11). Just like London buses, you wait for ages for a Quietway and then lots arrive at the same time: Q14 earlier and after Q11 we also met Q13, Q2 and a still unnumbered one in Hackney. Of course, the reason Q11 has been declared a quiet way may be that you stand there and watch the absence of cars on quiet Queen Victoria Street and Cannon Street while you wait for the lights eventually to let you cross.
A slight detour to check whether Trump St had already been decorated for the state visit in two weeks' time (it hadn't). Then the (unrelated) Russia Row and back to Q11, which provides a safe crossing of London Wall and a few other potentially busy City roads. Q13 (like Q14) needs a few reassuring signs that it's legal to contraflow but it took us safely to the so-called Cycle Superhighway 1 and its best bit, the dedicated crossings of Great Eastern St and Old St.  Continued north on Pitfield St, then east on Q16 to the Regents Canal just before Queensbridge Rd.
On the other side of the Regent's Canal the cycle path runs parallel to the towpath, so lovely views of the canal without upsetting walkers.  As expected, Broadway Market was packed with stalls and shoppers, so after ignoring F Cooke's pie shop and the offer of jellied eels we avoided the market by going round the block. Unfortunately, that split the peloton but we managed to reunite and test Hackney Council's recently installed speed control in London Fields (info here).
Lots of people enjoying London Fields and the queue at the Lido gave us a good excuse not to stop for a swim. There were a few other reasons for a ride to London Fields:
it's nice and deserved a visit
to look at some helpful things Hackney has done for cycling
show everybody how to get to the start of the Dunwich Dynamo
On a rainy day an empty towpath would have been a convenient way to reach Victoria Park, our halfway stop, but not on a hot Saturday in summer when it's busy. So Q2 instead and a chance to try the generously sized refuge on Mare St, which allows cyclists to wait for a gap in southbound traffic.  After refreshments in Victoria Park we managed to extract all our riders from the crowd and followed the familiar route down Regent's Canal to Limehouse and through Wapping to Tower Bridge and along the river back to Canada Water.