No Comments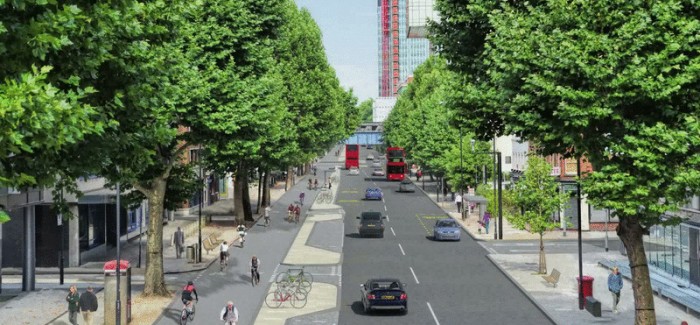 by Bruce Lynn January 9, 2016
Wow!  21 riders at Canada Water on a grey January Saturday morning. Quite a sight. Some regular riders, some irregulars, and several new riders. One new rider had a loan bike from the Southwark cheap loan scheme, still running (http://www.southwark.gov.uk/info/200123/cycling/3935/borrow_a_bike_for_10).
As planned we headed across Southwark Park and up to the Connect 2 bridge over Rotherhithe New Road. Then a stretch of the new Quietway 1 to Oxley Close followed by NR425 to and across Burgess Park. Next picked up the proposed Q7 route from Burgess Park to Elmington Rd eventually ending up at Camberwell Green. With a big group were a bit behind schedule, so not much time to consider what can be done about the big crossroads (out to consultation soon). Continue on Camberwell New Rd (was to be Superhighway 5 once) to the Oval junction. Managed to make the 2 stage right at Brixton Rd (even with 21 cyclists there was enough room in the pocket). Next along Kennington Park Rd using the new stretch of segregated cycle path on the upgraded CS7. Stopped to admire the junction with Kennington Road where a "Hold the Left" design has been properly implemented, so making this junction safe for cyclists (no more "left hook" collision risk)( see explanation on this web site).
Next stop the Elephant and Castle. New layout of the northern junction was running smoothly with rather less than weekday traffic levels. Swung on to the nice new cycle track that begins the
North-South Superhighway. Followed this all the way to Meymott St. Picture shows computer generated image of the stretch we rode. It is pretty much like this now. Really nicely engineered, and noticeable how having a wide segregated track speeded the group up. Right turn into Nicholson St following the route what will be part of Quietway 14 for a short way. Then continued along Gt Suffolk St and joining the Quietway 1 route at Webber St. The crossing of Tower Bridge Rd is nearly completed. Going to be interesting to see how the potential conflict with pedestrians works out. Running out of time, so skipped the last part of the planned route and headed back along Lynton Rd, Southwark Park Rd and Southwark Park.
Pretty good weather – some sunshine, one brief-ish shower. Next ride is 9.30, Canada Water, next Saturday (16th Jan) for a 3.5 hour "plus" ride. Will the New Year enthusiasm still be strong and 20+ riders turn up?  Today's route at  https://goo.gl/04a6MX