No Comments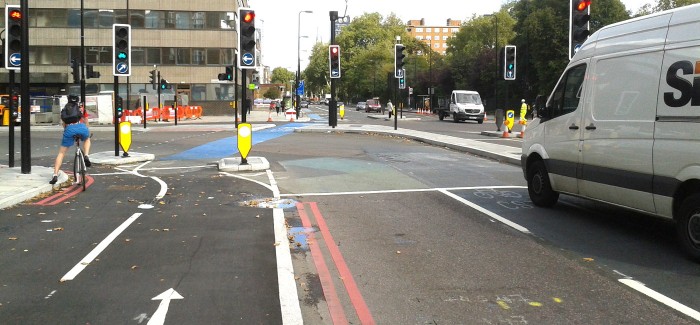 TfL have finally built a proper hold the left junction and it works well. The left hook risk at this busy junction has been eliminated. All traffic is flowing well.
Junction is between the A3 (Kennington Park Rd, CS7) and Kennington Rd, close to the Oval station. It is a T-junction with a lot of left turning motor traffic and a lot of straight on cyclists. Drawing shows the junction detail. NB North is towards the top right corner.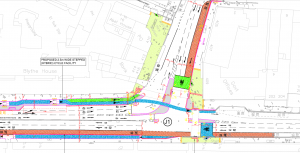 Click on drawing (or images) to see hi res version.
This is a simple junction in that (a) there is no left turn out of Kennington Rd and (b) there is no pedestrian crossing on the west arm of the A3 (there should be, of course…). However, the basic idea of separating left turning and straight on traffic in time can be applied to any signalised junction with room for 2 lanes of motor traffic and a cycle lane (see http://lcc.org.uk/articles/campaign-cycle-segregated-junction-explained). NB What I am calling a "hold the left" design is often designated "cycle segregated".
Simple 2 phase light control: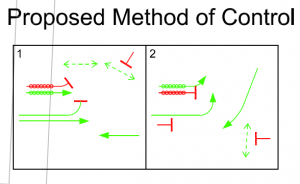 Phase 1, straight on NE-SW (A3), no turns, pedestrians cross Kennington Rd.
Phase 2, left and right turns, no straight on. Pedestrians cross east arm of Kennington Park Rd.
Indication lines with what look like beads along them are the cycle movements. Pedestrian movements are dashed green.
Header photo is from the south west on the A3. This is phase 1, straight on only. Note the white van in the turn lane is held on red, so any straight on cyclist can proceed safely with no risk of left hook. Note cyclist also held on red signal. This is to avoid conflict with pedestrians crossing Kennington Rd.
Below is a view from slightly further back.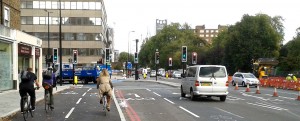 This is phase 2, the turn phase. The 3 cyclists have separated into the appropriate lanes. All straight on traffic is held so right turn out of Kennington Rd is safe and pedestrians can cross the far (north east) arm of Kennington Park Rd.
Photos are 12.30 on Thursday 24 Sept, 2015. No queuing on any arms. Note the 2 lane segregated cycle track, stepped down from pavement and up from carriageway.
Spoke to a couple of cyclists, one of whom used the junction regularly. He liked it. When I told him a similar arrangement was planned for the Kennington Park Rd/Brixton Rd junction he was pleased as he goes straight on there, through the left turning traffic at present.
Spoke to 2 blokes in hi-viz supervising the work on the south side of the junction. Asked about peak morning period. They said it could be pretty iffy as cyclists (a) ignored the left turn red and conflicted with the pedestrians on the crossing and (b) some of the Lycra brigade preferred to stay on the straight on carriageway and this was narrow next to the central island, causing near misses. Checked this out on Friday 25 Sept, 8.30 am. 5 minute counts showed 79 cyclists going straight at this junction. 9 (11%) used the carriageway rather than the cycle lane. Those on the carriageway appeared to have enough room. Watched 2 phases of turning cyclists. 44 cyclists turned left. Only 5 (11%) turned on red. There were a lot of children crossing on the way to school. The cyclists jumping red all appeared to ride carefully, avoiding close encounters with pedestrians. Nevertheless would be good to see these numbers fall. When the cycle route is complete through the upstream junction it is likely fewer cyclists will use the main carriageway. Respecting the left turn red may need some cyclist education.