No Comments
by Bruce Lynn February 16, 2019
The Healthy Ride on 16th February attracted 38 riders, the most we have ever had. And we rode 36km, equalling the longest previous Healthy Ride.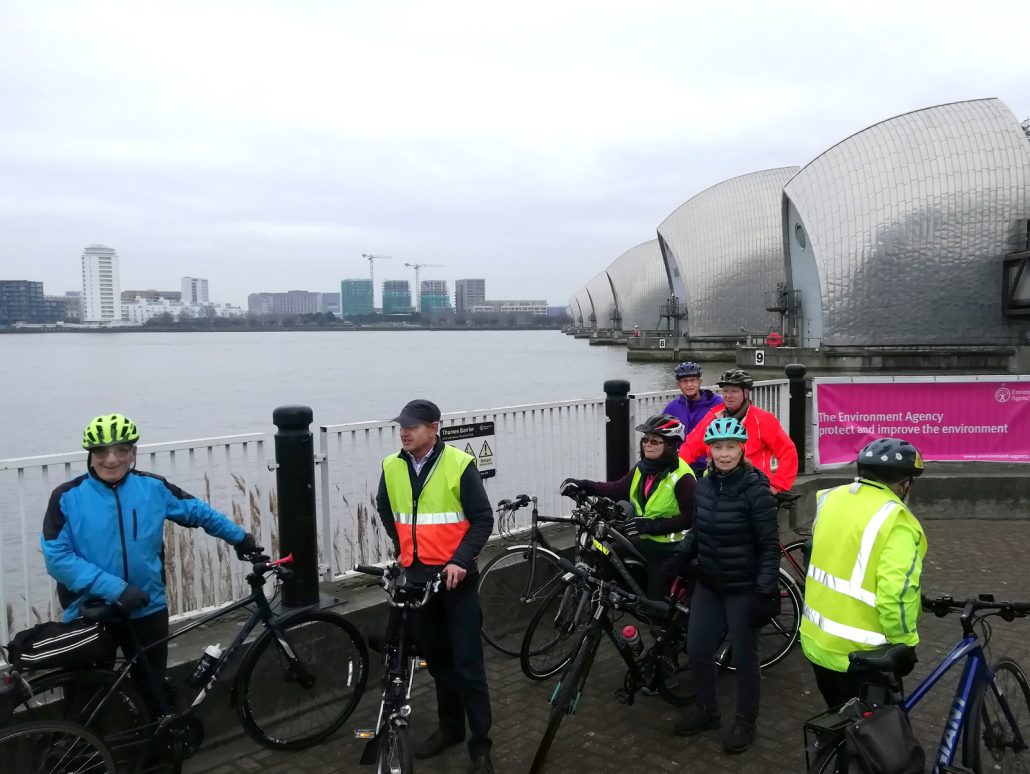 After two sunny days, it was disappointingly dull, rather damp and murky, for the regular 3rd Saturday Healthy Ride +. The grey skies, however, did not put off riders and 36 people set off from Cutty Sark Gardens. Two more joined during the ride, so we had 38 riders taking part, a record.
With such a large group, and lots of shared path with pedestrians, the group was allowed to split in 2 at about the 1 mile mark. We had this option because there were joint ride leaders, both of whom knew the route and we had experienced riders to cover the back of each group.
The front group had time to include a diversion to the Thamesmead Tor (aka the Twirly Tor or Gallions Hill). The rear group stuck to the Thames path until the turn south through Thamesmead to the coffee stop at Lesnes Abbey. Everyone met up at the stop and a large queue formed for refreshments. We needed to leave for the return leg before the queue had all been served so a few cyclists had to depart thirsty. On the return leg we again formed 2 groups. The first group arrived back at 12.40 having made very good time. I felt a bit bad as they could have had their coffees, but there you are, what can you do. The second group were back dead on time at 1pm.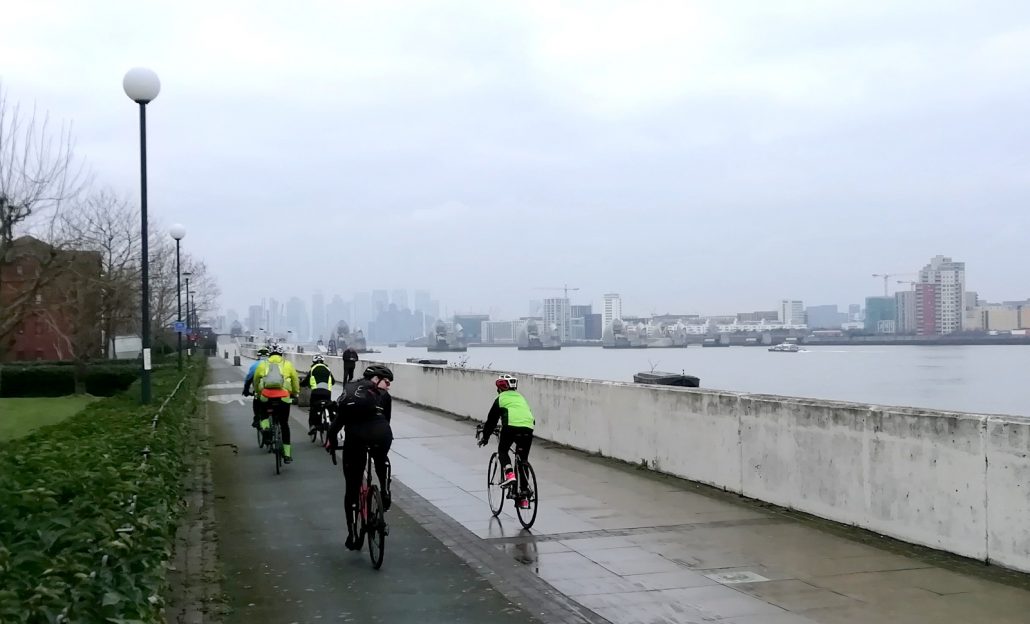 Some fine cycle paths on this route. Round the Greenwich Peninsula and along the Woolwich/Thamesmead waterfront there are long stretches of wide, well-surfaced, path. On the return we used the Ridgeway path along the sewer from Abbey Wood to Woolwich Arsenal. This also now has a smooth tarmac surface. Great to see the Woolwich Ferry operating again with 2 shiny new boats.
One problem of note on the outward run, a puncture at the Thames Flood Barrier. Simon and I stayed to fix it for the family group. Then disaster, my pump broke in half! Simon's pump only fitted Presto valves and the punctured tube had a Schrader valve. The group of 3 riders trudged off planning how to get home (Uber back to car, then return to retrieve bikes). Happily they spotted the Halfords on Woolwich Rd and a new tube was fitted. Too late to catch us up, but they were at least back on their bikes. Lesson here is to always carry a pump that fits all the tyres (and also we recommend that riders carry a spare inner tube).
The ride was planned and led by Mike and Mary. As usual David covered the rear of the group. Amanda and Bruce helped with organising along the route. We owe a big thankyou to them all. Route map at https://bit.ly/2GqXzUQ. Healthy Rides happen every Saturday morning. Check the Events listing for future rides. Find more information about Healthy Rides at www.healthyrider.weebly.com