No Comments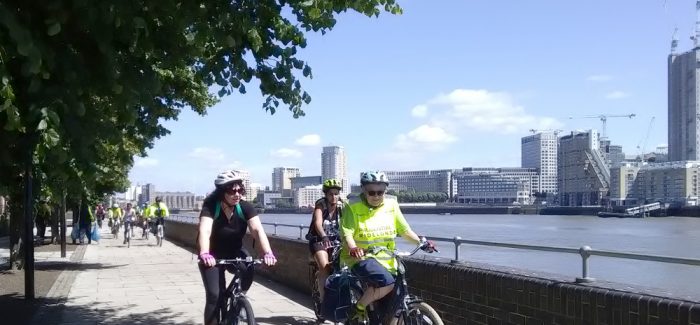 by Bruce Lynn June 11, 2017
The Healthy Ride on Saturday 10th June attracted 29 riders, the most we have ever had for a 2 hour ride.  We did get 33 last year for the Fire of London "+" ride of 3.5 hours duration.
Route was the latest version of the Tour de Rotherhithe, a gentle perambulation around the Rotherhithe Peninsula.  Started at Canada Water Library, as we always do on the second Saturday each month. Then a circuit of Southwark Park ending at Kings Stairs Gardens. A short detour to the Salter statues followed by a ride along the Thames path.  Passing Durrands Wharf (site for the proposed bridge to Canary Wharf), Surrey Docks Farm, Greenland Pier and South Dock, we stopped on the Deptford Waterfront.  Headed back via the new Surrey Canal Linear Path and Greenland Dock.  Paused at the Sustrans Memorial bench to remember Barry Mason, the Southwark Cyclists convenor who started the Healthy Rides.  From Greenland Dock rode through Russia Woodland and back to Canada Water.
We were lucky with glorious weather. One puncture – but with 58 wheels always a chance one will find something sharp.  Several tight parallel barriers on the route which cause big delays with 29 riders.  So we did not complete the full planned route (route at https://goo.gl/5pFd9b).  But no-one seemed to mind.
If you have not been on a Healthy Ride, come and join us.  We are out every Saturday morning and all the details are on the Events Listing on this site. More information at www.healthyrider.weebly.com