No Comments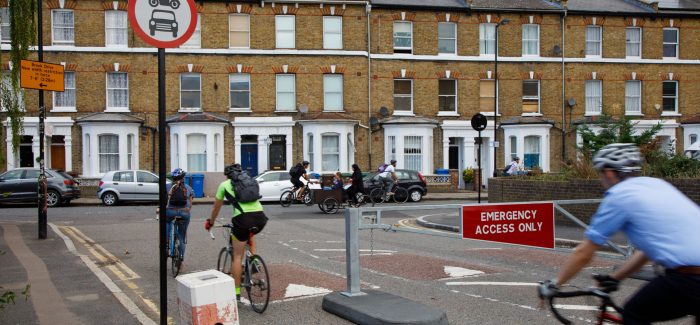 This road closure has won an award as the Healthy Streets Community Project of 2018. Tell Southwark Council we agree that it's great and we want to keep it. 
The nomination (by LB Southwark) says: Dante Road and Brook Drive are narrow residential streets in Southwark that have long suffered from high levels of traffic. The resident-supported 'Tranquil Triangle' initiative to close Dante Road to cars is now being trialled, and represents a success for both local people and cycling in London, making a number of the local roads near CS7 significantly quieter. Since the closure, there is significantly less through traffic, more cyclists of different ages and abilities, and children playing in the streets.
Yes, yes. We like it too. Now we need people to support the residents of Dante Road and Brook Mill Drive and show that cyclists want safer walking and cycling routes too. The map is here: https://tinyurl.com/yc92hkd2
Dante Road is part of a key cycle route for people getting to the river. It's a cut through for cyclists on CS7 heading for Lambeth and Westminster bridges. Unfortunately, when it's open, it's also a through-traffic rat run for motorists avoiding Elephant and Castle.
Those bridge names are a big clue that a lot of this area is in Lambeth but not all of it. Southwark Council have put up the barrier on Dante Road. Now we need to encourage them to make it permanent.
One Minute Action: Tell Southwark that you (and your friends) like this experimental road closure and you want to keep it.
There's no consultation so you need to email Tobias.Allen@southwark.gov.uk and share your thoughts (politely please, he's a nice guy) on making cycling safer and the air cleaner. It's TMO17/18-EXP04_Brook Drive area if you want to refer to the Traffic Management Order.
Or just put Dante Road in the subject line and share your thoughts.
The council's TMO page is here: https://tinyurl.com/ybqrvzz8 and it's called Experimental Notice Brook Drive area and dated February 1st 2018. To find out more or get involved email ttriangle@outlook.com and sign the petition https://tinyurl.com/ycy2bnwq