No Comments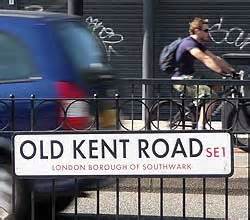 THIS IS IMPORTANT – PLEASE HAVE YOUR SAY
Consultation deadline is March 21st
Introduction
Southwark Council are consulting on their updated area action plan for the Old Kent Rd Area. This area runs from the Lewisham border to Harper Rd on the New Kent Rd, north to Grange Rd and to South Bermondsey Station, south to Commercial way.  20,000 new homes are planned and 3 new Underground Stations. There is great potential for improving cycling on the Old Kent Rd itself and making safe, attractive, routes to adjacent areas.
Southwark Cyclists have contributed to previous discussions on this plan.  See the following posts:
The consultation documents are here and the council's full report is here (note 140 MB PDF)
Drop in sessions
The council have organised drop-in sessions to give the opportunity to talk to officers and find out more about the plan. The second session will be held on 7 Mar 2018 at 16:30 to 20:30 at Christ Church Peckham, 676-680 Old Kent Rd, London SE15 1JF
Responding to the consultation
We suggest you respond with 3 key asks:
Support for protected cycle lanes on the Old Kent Road
Support for Green Link
Support for permeability throughout: safe and pleasant walking and cycling conditions throughout the development.
Why protected cycle lanes?
For current demand: to improve safety and make it more pleasant for lots of current cyclists
For suppressed demand: lots of people are put off from cycling there because it's horrible (pollution, intimidated by motor traffic)
An opportunity: TfL have included it in their strategic cycling analysis as a case study; the consultation says they will "look to deliver segregated cycle lane" at the south-eastern end. And 87% of respondents to the previous consultation supported protected cycle lanes.
During earlier workshops the feasibility of cycle lanes along the whole length of the OKR was demonstrated.
Why Green Link?
The Green Link is a plan to connect parks and green spaces across Lambeth and Southwark, so there is a continuous walking, cycling and wildlife corridor from Vauxhall to Canada Water and Convoy's Wharf.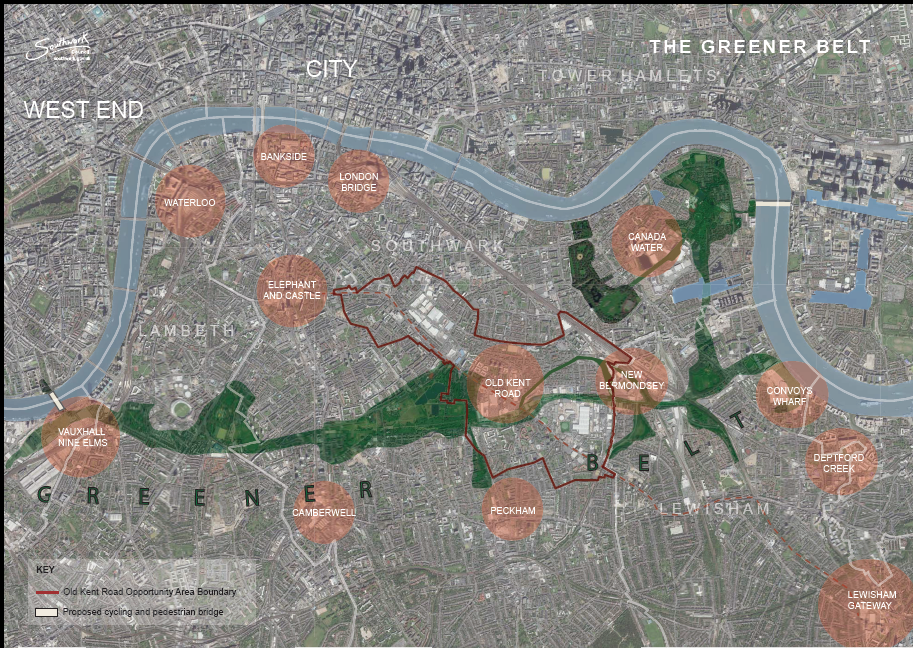 The OKR AAP includes a green link eastwards from Burgess Park along the old Surrey Canal alignment. The developers plan to include a walking/cycling park-like route which local businesses front on to.
This is good for local cycle access, and good for getting a longer-distance route from east-west – something Southwark is sorely lacking!
There need to be good links north-east across the railway to Southwark Park and Russia Dock woodlands – and the proposed walking/cycling bridge to Canary Wharf (see below).
Why permeability throughout?
Because a single route is not enough. For example, Quietway 1 is fantastic, but there is no low-traffic route to Southwark Park only half a kilometre away from it. For cycling to be a viable way of getting around, we need cycle access to homes, schools, shops and places of work; not just cycle access along one or two main routes.
How to respond
Go to consultation questionnaire. Key questions are:
Question 9 – asks about the green link.
Question 11 – asks about walking and cycling in general.
Question 15 – is for "other comments".
Some more suggestions to get you started – you can write just a sentence or a long essay!
I support improvements to walking and cycling conditions because…
I don't cycle here because I find it scary
I don't feel safe bringing my children with me when I cycle
I use my cycle as a mobility aid and want to access the shops
More active travel will decrease pollution
I would shop on the OKR more often if it was easier to get to by bike
I want to see more children cycling to school
Cycling is the quickest/cheapest/most convenient way of getting around, but currently…
I am especially interested in [improvement you want] because…
that's where I live
that's where I work
it's part of my commute
my children go to school there
that's where I shop
I've had a near miss/collision there, and don't want it to happen again
I currently walk it and cycling would be quicker
I currently take the bus and cycling would be cheaper
my friend / family member can't/won't cycle with me
For more information
For information about campaigns so far see the Southwark Cyclists Wiki.
TfL's strategic cycling analysis (PDF). It includes OKR as a case study for protected infrastructure for bikes, separate from buses, as there is high demand for both (page 33). It says Old Kent Road is among top 20% of London streets for current cycling use, and Old Kent Road is among top 20% of London streets for potential cycling use (i.e. journeys not currently cycled).