No Comments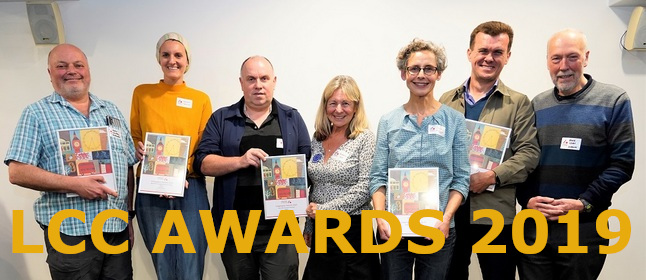 The Annual General Meeting of the London Cycling Campaign ends with the Campaigner Awards for the preceding year. At the 2019 meeting on October 16th Southwark Cyclists were awarded:
Andy Cawdell, (far left in pic) is our retiring Co-ordinator. He received a special award for "Outstanding contributions to cycle campaigning". This was well-earned recognition of Andy's work with us at Southwark Cyclists, but also his across-London importance as a trustee of the Herne Hill Velodrome, founder of the Road Works Patrol, with LCC central and much more.
Best Rides and Ride Leader 2019 went to the Southwark Healthy Rides and Bruce Lynn (far right). No symbolism in the positioning.
We were "highly commended" for our work leafletting tirelessly to generate support for the "missing link" in CS4 during the recent public consultation. And Sean Howes was "highly commended" for his campaigning, both organising the CS4 campaign and more (remember #MakeTheLane?)
All in all a really good night to be a Southwark Cyclist.
Read about all the winners here.