No Comments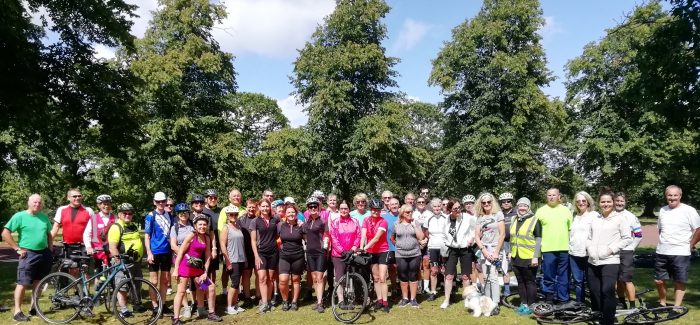 by Bruce Lynn August 19, 2019
After dodgy forecasts earlier in the week, here we were on picnic Saturday 16th August with blue skies and a pretty decent forecast. Started to worry that the park would be too crowded for our planned cycling games… Time for a bit of positive thinking, so off to Dulwich for the ride start.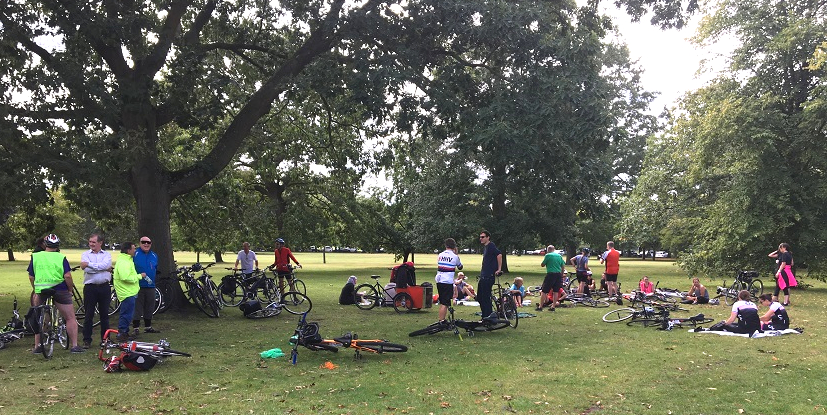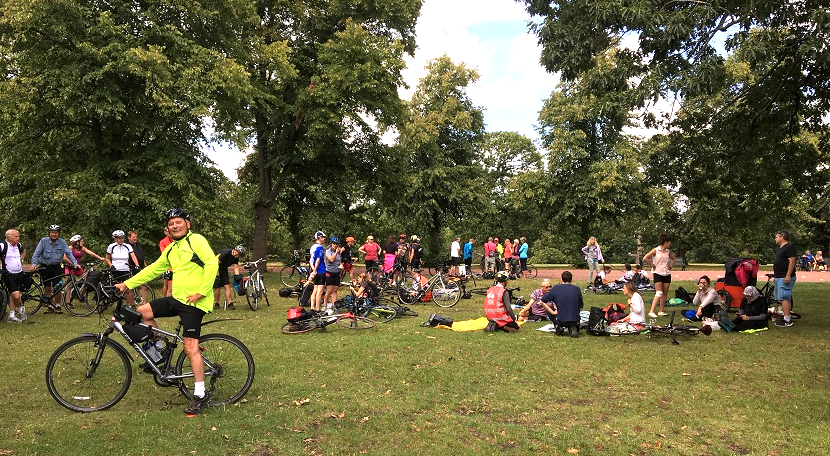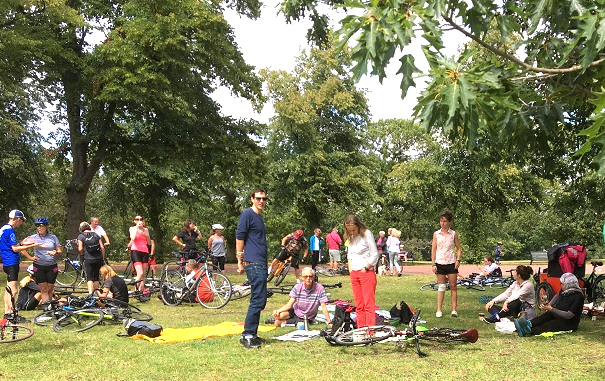 Ten riders gathered at the Dulwich clock Café in Dulwich Park. We set off down the hill to Peckham Square where another 6 riders were waiting. Next to Canada Water where 5 riders were collected. Decided to use Cycleway 1 (ex Quietway 1) rather than the riverside as a climate demo was happening at Cutty Sark at about the time we would get there. Made good time and arrived at the bandstand in Greenwich Park around 11.50. Were joined by a few more cyclists who had made their own way to Greenwich. Park nice and empty so we set up camp just west of the bandstand and close to the wide E-W path.
Pretty much on time at noon the Bexley Healthy Riders arrived. At 35 they rather outnumbered the Southwark riders. Then 4 riders from Newham Cyclists turned up, one riding a unicycle! So about 60 of us to consume our sandwiches and partake of a few cycling games.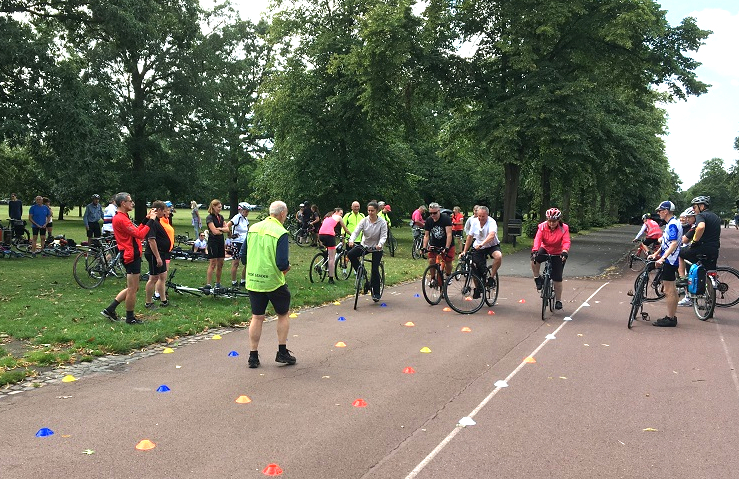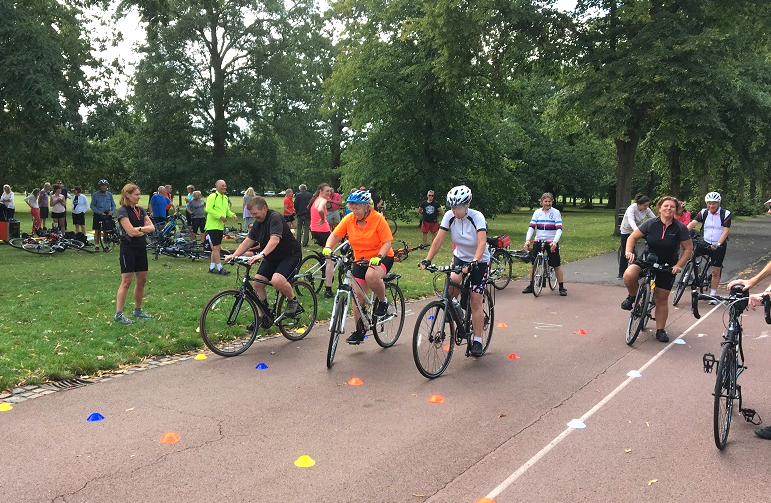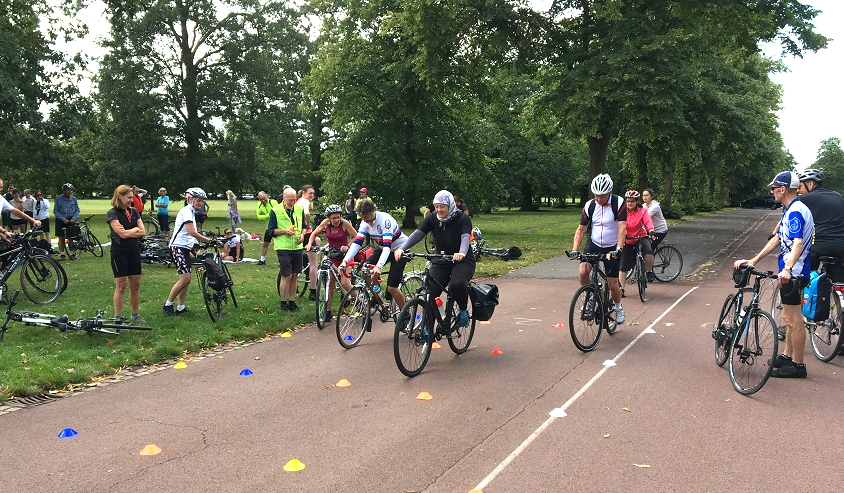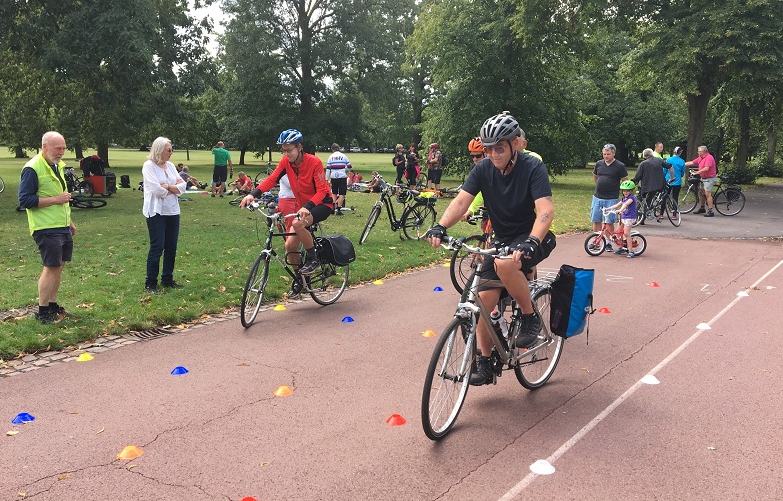 Harry and I set up a short 4 lane track on the tarmac for some slow cycling. The final was quite close, with Harry (Bexley) just edging out Jacub (Southwark). Time for Musical Bikes. A dozen or so plastic markers were set in a circle on the grass. Harry Jr had the music, so off we went. When the music stopped riders headed for the nearest marker and placed a foot on it. As in standard Musical Chairs markers were removed one at a time until we had a winner. Competition became quite serious when only 1 or 2 markers were left! Final event was the track stand, i.e. stopping still and balancing on your bike. Ray (Bexley) showed us how to do it. Always impressive to see someone manage this feat on a standard road bike with freewheel drive. Many others gave it a try, but Ray remained the clear winner.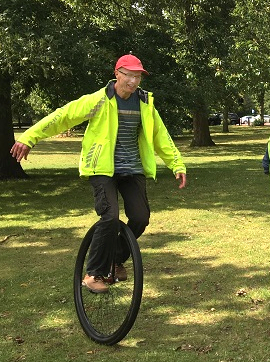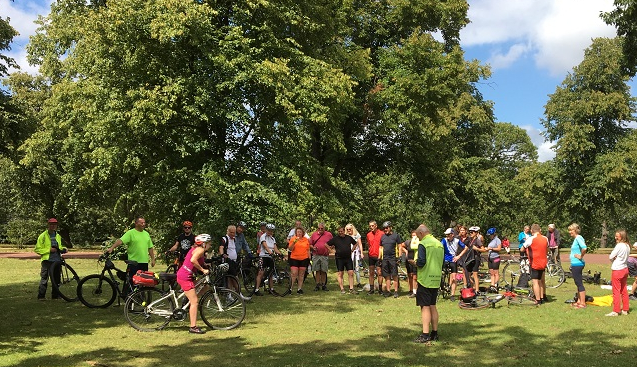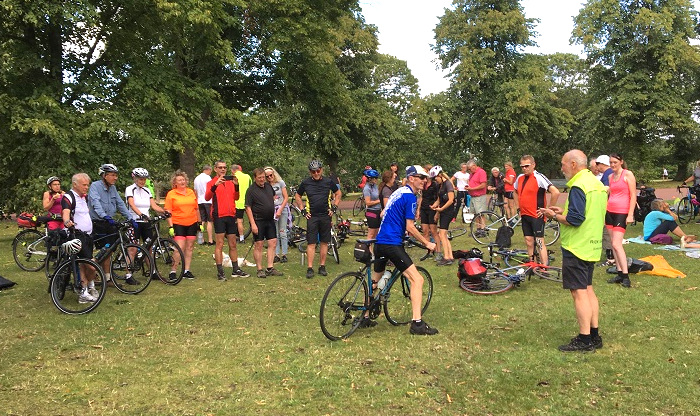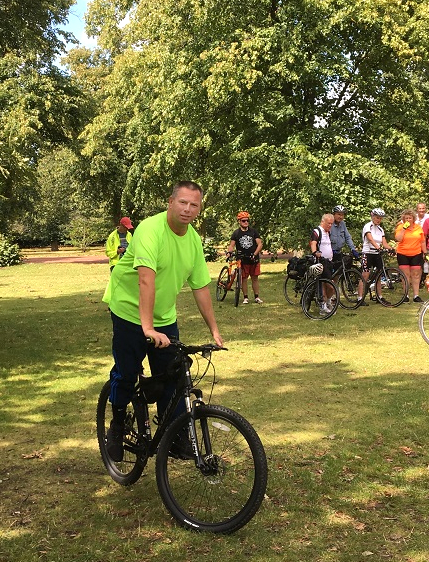 People were now enjoying themselves so much that by popular demand more slow races were held. About 1.30 we finally picked up the lane markers and everyone prepared to leave. The 12 or so Southwark Cyclists who wanted to ride back together departed. As no-one needed to get to Canada Water, we set off along Cycleway 1 towards Peckham. Had completely forgotten that on the way out we had seen the Millwall Football Cub stewards getting ready for a home match. So, with the Millwall path closed, we diverted north through Southwark Park and rejoined the planned route at Stevenson Crescent. At Oxley Close turned south to Peckham. Just 6 cyclists continued to Dulwich, peeling off at intervals.
So the festive picnic ride ended. Went well. The weather co-operated, the various meet-ups ran smoothly, and introducing some games created an excellent atmosphere. 2018 at the Thames Barrier, 2019 in Greenwich Park, perhaps this has now matured into an annual event. See you next year!
Bexley video, mostly ride out, but nice bit of slow riding https://www.facebook.com/100009676299816/videos/922440978088437/
More information about Healthy Rides at Healthy Rides Home Page