No Comments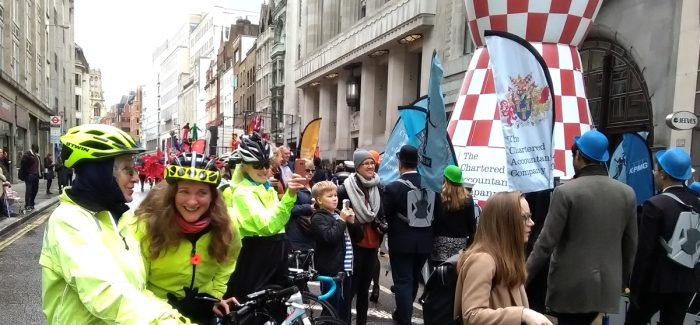 by Bruce Lynn November 13, 2017
Report on Healthy Ride, Nov 11th 2017 by Ride Leader Werner.
For over 800 years the newly elected Lord Mayor of London has polished the coach, fed the horses and set off on a trip from the City to Westminster to swear loyalty to the Crown. Most of the time they had to manage that without a group of healthy riders joining the fun but we are now in our fourth year and processing from status "customary" via "traditional" to "historical".
Part of the leader's schedule is a ride earlier in the morning to check openness of bridges and roads and to gauge the official mood and tolerance. Back at Canada Water for 10:00 and the rain had stopped and an unseasonably large group of 16 riders was waiting.  Headed off along familiar roads to cross Southwark Bridge, one of the few bridges open and full of overly optimistic drivers not being allowed to turn left at the other end.
A slight detour up College Hill in memory of London's most famous Lord Mayor, Richard Whittington. He paid for the rebuilding of St Michael Paternoster and lived next door. No mention of his advisor on the plaques but in 1949 a mummified cat was discovered in St Michael.   Being in a group of 16 saved us from agoraphobia along Queen Victoria Street, otherwise the wide open spaces deserted by any moving car might have been frightening. Fences blocked the entrance into the E-W cycle superhighway but nobody objected when we contraflowed along the Embankment (don't try this on other days).
Observance of the two minutes' silence had been suggested so we negotiated our way into central London's quietest place, Middle and Inner Temple with the sound of church bells in the background.
Up to Fleet Street and a hint of what Tour de France riders experience, going at high speed unobstructed by cars and cheered by spectators lining the road. (Note for next year: prepare tabards "LCC and healthy riders welcome the new Lord Mayor" and sneak into the official procession). Then we found that the check earlier in the morning wasn't a completely reliable guide to the real ride.  A policeman was a bit surprised how we had managed to get somewhere where we shouldn't be and hinted strongly we really shouldn't be there. So not a full lap of Aldwych, followed by a brief interview by another man in uniform. That gave us a chance to ride Aldwych in the wrong direction.  Next
down Savoy St onto CS3 till an immoveable force from a private security company blocked us at Temple Avenue. Pushed up into the Temple area again we took a stop to view the procession along Fleet Street, most impressive were the camels (but not drawing the coach).
Time to ride back across an empty Blackfriars Bridge, through Borough Market and past the closed section of Tooley St at London Bridge station.  To save time ended up riding along Jamaica Rd, which was a useful demonstration to show that everybody should support TfL's CS4 consultation. A slightly late return to Canada Water but when else can you use the "sorry, we were held up by camels" excuse.
It's always an interesting ride. It doesn't just require planning but also reacting when somebody objects against your Plan A (and B and C…). Obviously, the security services have a huge responsibility and we don't want to annoy them but they were generally very friendly and cooperative.
Track at http://taffimai.w2.org.uk/healthy-rides/HR-CW-LM-20171111.html, but do not try to follow the route north of the river under normal traffic conditions!!