No Comments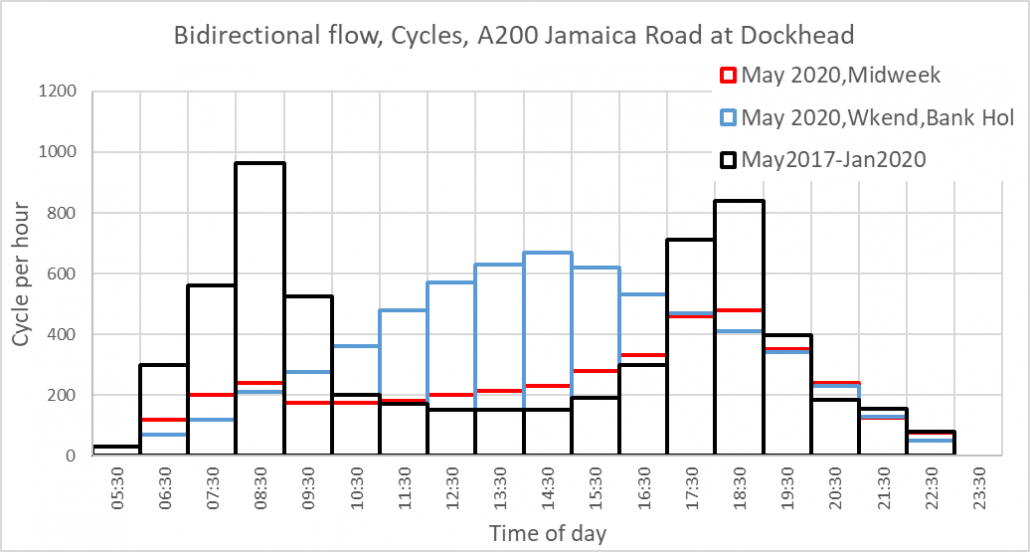 Have counted traffic on Jamaica Road from my flat during the lockdown. Able to compare with data collected over the last 8 years.
Key findings are
Weekend cycling up 200% with 60-70% mode share.
Working week cycling down 33%, but rising. Motor traffic down 35% and very slowly increasing.
% female cyclists is significantly up on pre-lockdown
Commuter "transport" cycling (as opposed to "leisure" cycling) is possibly down by 70%.
So some good, some bad news here. Leaves open the question of whether routine "transport" cycling will even recover to pre-lockdown levels when there is a full return to work and motor traffic increases.
The Government's data for England as a whole shows an increase in cycling during the working week of 55% in first week of June (compared with the first week in March). Note that in Inner London there is always an increase of about 15-20% between March and June (longer day, better weather). No comparison with comparable levels from past years or where they counted or time of day (https://www.gov.uk/government/statistics/transport-use-during-the-coronavirus-covid-19-pandemic).
Note, the level of transport cycling is crucial if cycling is to make a contribution to everyday cycling post-lockdown and to reduce any rise in car driving in cities.
Fuller report on the Jamaica Road changes is at http://healthyrider.weebly.com/bruces-blog/effect-of-lockdown-on-cycle-traffic-flows