No Comments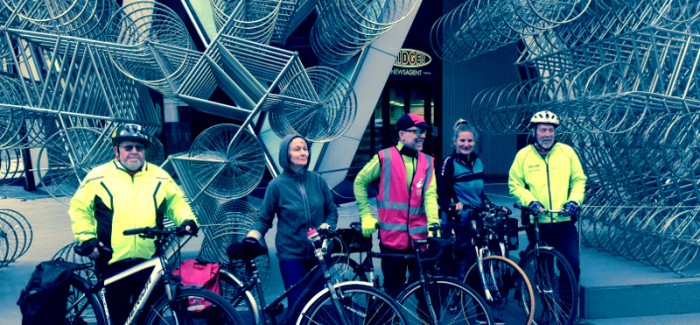 by Bruce Lynn December 20, 2015
19 Dec 2015.  Lovely day (14 degrees, occasional sunshine) for our final scheduled Heathy Ride for 2015. What a great early winter we are having, weatherwise. Perfect for our last scheduled ride following a great route devised by ride leader Werner Wiethege.
8 riders headed off from Burgess Park towards Vauxhall where we rode the new segregated cycle lanes on Cycle Superhighway 5 from the Oval to Pimlico. Two-way track changes sides just before the rail bridge with a signalised crossing phase. This worked, but could do with an extra repeater signal on the north side. Turning right from Vauxhall Bridge on to Millbank was not very intuitive. Overall, new tracks judged a big improvement.
Next target was Torrington Place. Route took us via Westminster back streets, Buckingham Palace, Hyde Park (past the huge Winter Wonderland) and the Post Office Tower. Torrington Place and Tavistock Place have had a 2-way, north side, segregated cycle track for some years. This has had its problems with motor traffic not spotting cyclists coming from the wrong direction at junctions, and the track itself being so narrow that overtaking was difficult. Recently Camden Council has switched to a one-way track on both sides of the road, using mostly light segregation for the new south-side track. The 800 metres of new track was installed in just 2 weeks as a trial.   There will at some point be a review about whether to make the scheme permanent. There is huge support from cyclists and people who live a work locally. But there is also a very strong 'anti' lobby. Camden Council need to receive as many commendations as possible. If you think the scheme is a positive change to Bloomsbury please email your appreciation to: torringtontavistocktrial@camden.gov.uk and/or a tweet to @camdentalking including the hashtag #taviplace. See more info at http://camdencyclists.org.uk/2015/11/tavistock-torrington-trial-is-under-way/
Next target was the Barbican Centre. Hard to access by bike but a friendly security person allowed us to wheel our bikes through the Centre from Silk St and we settled down by the fountains for a well-deserved cup of coffee (plus sandwiches for a couple of hungry riders). We were spoken to by another security person who told us bicycles were not allowed where we were, but it was agreed as long as we were spending money, could stay for a bit…
Refreshed we headed though backstreets and alley ways to the Gherkin (30 St Mary Axe) where we admired the remarkable sculpture "Forever" by Ai Wei Wei comprising 1,254 chrome-plated bicycles bolted together (see photo). It is scheduled to remain until May 2016 – do not miss it! From the City headed across Southwark Bridge and back to Burgess Park and the end of a really enjoyable ride. Route at http://taffimai.w2.org.uk/healthy-rides/HR-BP-VB-SB-20151219.html
We would normally have a ride on the 4th Saturday, but with the holiday none has been advertised. However, Werner says he will be at Canada Water Library next Saturday (Boxing Day) at 10 am and will lead a short ride with anyone who fancies a break from the celebrations.