No Comments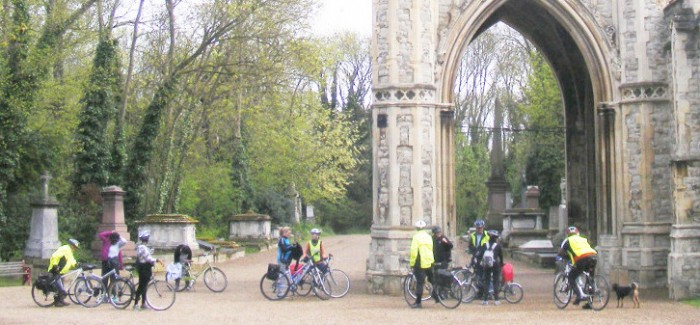 by Bruce Lynn April 26, 2015
Parks, Cemeteries and a Museum.
13 riders set off from Peckham Square heading for the Horniman Museum in cool weather following earlier rain. Up to our first cemetery, Nunhead, and then on to Camberwell Old Cemetery via the top end of Peckham Rye Park. Next the short steep climb of Langton Rise and along Westwood Park to Horniman Gardens. Did not use the cycle path on the west side of Horniman Gardens as the surface is really bad and it is being dug up at intervals making the path narrow and a dangerous. A shame that this useful off-road path on the London Cycle Network has been allowed to get into such a poor state.
At Horniman Gardens a small Farmer's Market attracted the attention of riders, so a rather longer break than intended ensued. Set off back along Westwood Park then continued up Brenchley Gardens to Camberwell New Cemetery. Quiet paths across the cemetery led to the exit by the crematorium on Brockley Way. Next stop was our fourth and final cemetery, Brockley and Ladywell. Frustrating that the entrances along Brockley Grove are all padlocked so can only pop in and out of the main entrance. It would be possible open up a ready made cycle path parallel to busy Brockley Grove by unlockng the first gate after Merritt Rd.
From this point headed pretty much straight back to Peckham via Ivy Rd, the path over the railway at Dalrymple Rd and Nunhead station. Back a few minutes late but that was due to there clearly being much more uphill than downhill (or at least that is how it felt!). So we missed a couple of parks, but did all the cemeteries and a museum. A good morning's ride. Route at http://goo.gl/XzFkTD.
Next Healthy Ride – May 9th, Canada Water