No Comments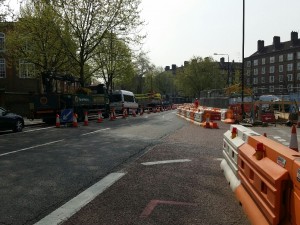 All, Southwark and Lambeth Cyclists are are riding the road works in our boroughs with TFL, our aim is safer cycling and you can help.
So early Thursday morning we started the process and have 'photos of the attached and we will repeat the exercise when there are major changes in works.
See the attached photos for a snap-shot of what was seen, noted, and sent out for action during the ride on Thursday morning this week. The collage of photos was done very quickly, but gives an idea. Some of the stuff was dangerous. We told TFL what would put it right
We have been asked to advise TfL during the temporary layouts so cycle safety is planned in and dangers mitigated (and with a watching eye on the final layout scheme too).
The number of road changes going on in London is huge, with any one scheme going through many phases of on-site changes, with different continually changing temporary road layouts. One lorry, or bus, can knock structures and make a previously safe area unsafe for cyclists. You may be the first to see this.
We have various road works over the next two years for cycle facilities – superhighways from Blackfriars Bridge southwards, Vauxhall to the Elephant) BT etc. trunking work on Kennington Lane, re-building the elephant Northern roundabout and rebuilding London Bridge plus perhaps 200 private developer sites in the area. This leads to perhaps 4000 construction vehicle movements at the peak.
Our aim is to help TfL and their contractors and on site managers understand cycle specific dangers, and to guard against them.
TfL are keen to learn. We can help them. They need our experience and knowledge. We can let them see through our eyes and learn through our experiences
Please keep us updated with your *pictures* – we need road name, direction and short line on issue PLEASE!! Especially when there's been a sudden change. Due to the rapid changes of some layouts, a picture is strongly requested.
Send them to all on to southwark@lcc.org.uk. This initiative is new, and early days in how it can develop.