No Comments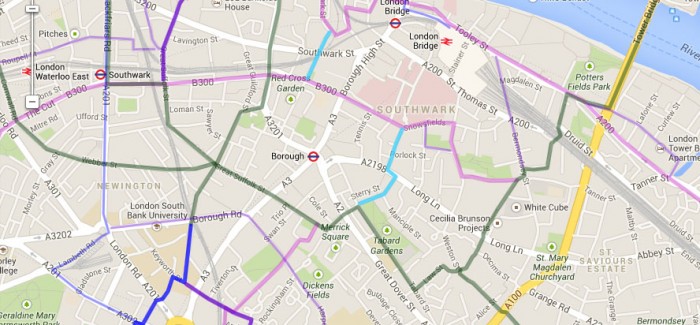 Central Grid Comments.
Have received some good comments, but would like more.  So here are some specific points.
Priorities.  LCC is keen to promote a "core grid" for fast implementation.  For me this would be the 3 most useful E-W routes:
NT4 along river
The Cut/Union St/Newcomen St/Snowsfield
Webber St/Gt Suffolk St/Trinity St/Pilgrimage St/Tabard St
N-S we have CS7 to Southwark Bridge plus planned N-S CSH along Blackfriars Road.  But nothing in the east part of the Southwark Grid.  No route to London Bridge.  No route to Tower Bridge.  A major route at present is Borough High St (400 cyclists per hour at peak).  Should we try to get this included?  In addition a good route is north end of Pilgrimage St and Crosby Row, taking you as far as Guys Hospital.
Comments on Yahoo Group or to me (b.lynn@ucl.ac.uk)
My annotated list of roads: Central Cycle Grid in Southwark_02;
Map of Southwark Section of grid: