No Comments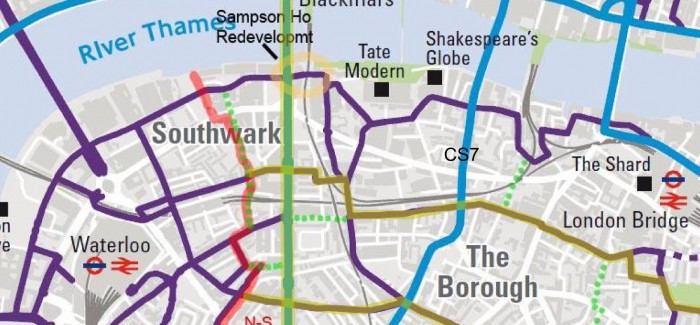 Where we are at Feb 20th 2015 – report compiled by Bruce Lynn
Summary
As the map shows, in Southwark we are not doing badly.
By the end of 2016 we should have all the E-W grid routes, and will have a new north-south Cycle Superhighway, making 2 N-S links in all for the Grid
Overview.
Five routes are actively being worked on at present. North-South Cycle Superhighway (NS-CS) is a TfL project and now post-consultation. Spine route is a Southwark project that includes a useful segment of the TfL Central Grid. Will comment in detail here about Quietway 1 (Q1), the Waterloo-Canada Water (Jubilee Line) and Elephant-Crystal Palace proposed Quietways, and the Southwark Spine route.
Quietway 1 (was Quietway 2 originally).
Section from Tower Bridge Rd to Webber St is Central Grid and in Southwark. Plans have been through Consultation at Borough level and approved. TfL have not accepted Southwark's proposed light-controlled crossing of Tower Bridge Rd. We like this plan. TfL have gone to consultation on a cycle crossing next to the existing pedestrian crossing.   This creates a major cycle-pedestrian conflict on the limited pavement space on the east side of Tower Bridge Rd. There is a 400-pupil Primary School next to the crossing so large numbers of parents and children are crossing eastwards at a time (8.30-8.45am) when there will be a lot of cyclists heading westward into town. TfL tell us they will sort this out in the detail of how pavement space is allocated. TfL consultation ends Feb 26th. Not sure what Southwark Cyclists should do here. We could object. But we do not want to delay Q1. Probably will not make any difference…
The rest of the route is agreed. And in fact work has started on removing barriers and other improvements on the most easterly section (outside the grid) and Traffic Management Orders have now been published for the whole route, including the Grid part.
E-W Grid segment, part of proposed Waterloo to Canada Water ("Jubilee Line") Quietway.
The segment from Roupell St to Tower Bridge Road is in Southwark and is at the planning stage. Southwark Cyclists had a meeting with London Borough of Southwark (LBS) officers to look at plans. The route from Union St to Tower Bridge Rd is excellent with improved crossings at Southwark Bridge Rd, Borough High St and Tower Bridge Rd. Problems are at the western end due to the route dictated by TfL. Despite earlier feedback, they persist with NOT using the west end of Union St and the excellent crossing planned at Blackfriars Rd to link with the NS-CS. Instead the Quietway is routed north along Gt Suffolk Street and across Blackfriars Rd at Meynell St. Gt Suffolk St is busy and narrow under the rail bridge. It can only be safe for to Quietway standard if filtered. Filtering would certainly be possible, but did not seen to be under consideration. At Blackfriars Rd there are no facilities to help cyclists cross this busy road, or to get on and off the NS-CS. So we have said that we cannot support this route unless (a) Gt Suffolk St is filtered and (b) the junction involving Maynell St, Nicholson St and Blackfriars Rd is signalised.
N-S Segment of proposed Elephant to Crystal Palace Quietway.
The part from Trinity Square to Rodney Rd/Brandon St is on the Central Grid. Southwark Cyclists had a meeting in January 2015 with LBS Officers, plus a TfL Quietways manager and Brian Deegan (TfL/GLA). The section from New Kent Rd to Brandon St is a problem. In the short term the major redevelopment work in this area presents challenges. But even long term it is hard to see how cyclists can safely execute the right turn from Rodney Rd to Rodney Place northbound. On balance my preference would be to abandon this part of the route and use the Southwark Spine route with a short E-W link to Brandon St. Although this at first sight looks less direct, it is actually shorter than the old LCN23 alignment proposed for this Quietway.
Spine Route.
This is a LBS project not TfL. However start of the route forms part of the Central Grid. LBS organised a series of cycle rides in January where Councillors, LBS Officers and LBS consultants, plus Southwark Cyclist members rode the route as far as Dulwich Park. The grid segment uses some busy, but wide, roads. There was acceptance that some segregation would be needed (e.g. in Borough Rd) and some improved crossings (e.g. at New Kent Rd). We have not seen any detailed plans yet.
How do we compare with Vision scheme?
The map shows the "Vision" plan from 2 years ago. You will see that in Southwark we are not doing badly. The route close to the river is National Cycle Route 4 and well signed and used. Improvements are needed, but at least some of these will come with new developments, for example on the east side of Blackfriars Bridge. The next E-W layer ("Jubilee Line") is being planned for 2016 completion, while the next E-W layer (Q1) is all approved, (except for Tower Br Rd crossing), and work has started. This could be complete in 2015. The next layer is included in the Southwark Spine route, and the next in the TfL Quietway (Elephant to Crystal Palace). Both are being planned and due for 2016 completion. North-South the NS-CS is going ahead. The next N-S bit from Gt Suffolk St to the river is not on the agenda. But we already have the next, CS7. Then there is a gap in the grid on the original plan and no proposal to fill this. The farthest east N-S section, Bermondsey St, is included in an area wide scheme that could see Bermondsey St filtered. There is also a commitment to a properly segregated bike contraflow though the Bermondsey St tunnel although this cannot happen for some years due to the work on London Bridge Station. So by the end of 2016 we should have all the E-W grid routes, and will have 2 north-south Cycle Superhighways. So all the hard work lobbying and arguing really is getting us somewhere.