No Comments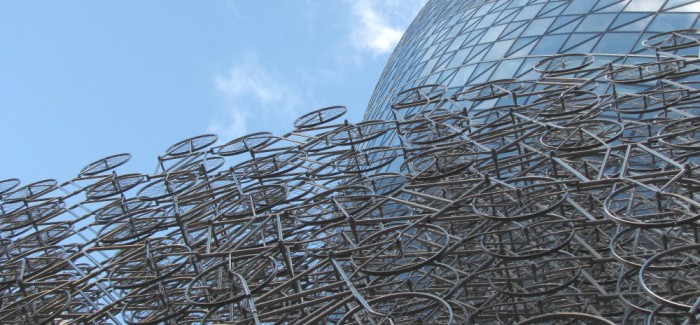 by Bruce Lynn December 29, 2015
Report by Werner who led the ride:        Dark clouds hanging over Canada Water when I got there. Fortunately the clouds lightened up and with 3 other riders headed off on the by now almost traditional post-santaic ride. Looking at the car-park, Surrey Quays must have been full of happy shoppers but roads were extremely quiet and we set off through Southwark Park and Druid Street to cross an almost traffic-free Tower Bridge. Hardly anybody in the City so we could tunnel under Fenchurch Street station (honest, it's not a dungeon and there's a way out at the other end) and ride along some small roads for a return visit to Ai Wei Wei's "Forever" outside the Gherkin.
Continued past more building sites to visit the base of the Monument and tell those riders who haven't climbed it yet that they should do it soon before it gets completely crowded in by tall buildings. It took a moment to find the plaque which gives Robert Hooke some of the credit he deservers. Then back to Leadenhall Market where I finally managed to locate and point out another sculpture installed recently in the City, Adam Chodzko's
"Ghost": http://hyperallergic.com/240353/bells-bicycles-and-other-monumental-sculptures-land-in-londons-financial-district/ . Then through a maze of twisty, little passages past Jamaica Winehouse and around St Michael's Cornhill back to some wider but still deserted streets for maybe the narrowest bit of one of England's oldest roads, Watling Street, https://h2g2.com/edited_entry/A24369951, to reach St Paul's. Around it and back into a mediaeval maze of lanes. Queen Victoria Street was utterly free of cars when we crossed it, we then fought our way up Southwark Bridge into a strong wind to return to Southwark and follow the canonical route along the river to Canada Water.
Route at: http://taffimai.w2.org.uk/healthy-rides/HR-CW-StPls-20151226.html