No Comments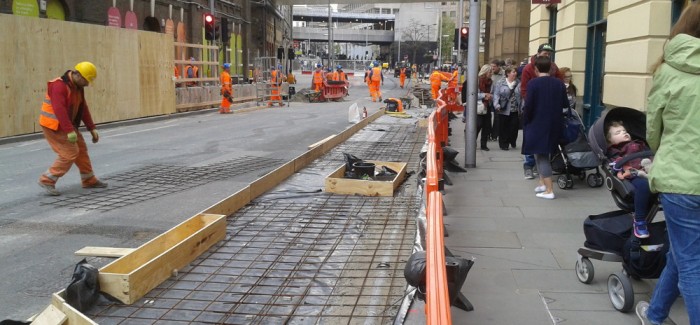 This weekend Tooley Street and Duke St Hill are closed completely from Bermondsey St to London Bridge.  This key E-W route will re-open on Tuesday (May 3rd) with Tooley St 1-way westbound (i.e. towards the London Bridge).  However there will be a segregated contraflow cycle path eastbound.  This situation will remain for 2 years.
A new pedestrian crossing will be placed just east of the existing station exit by the bus stop.  East of this there will be no pavement.  All eastbound pedestrians will use the north pavement (i.e. on the side away from the station).  This is being widened by 1-2 metres (see photos, one with the concrete being poured to make the pavement extension).
A large hoarding will be erected on half the road to make a works site for the final phase of the London Bridge Station redevelopment.  This leaves a narrow traffic lane. Over the narrowest 100 metres from Bermondsey St to Hays Lane, past the Galleria, the traffic lane is 3m.  So it will not be possible for motor vehicles to safely pass cyclists.  Beyond this it is hoped there will be a mandatory  cycle lane up to the lights on the bridge junction, but this may not be implemented immediately.
The contraflow lane going east, although segregated, will only be 1.2 m.  So take great care, especially on the fast stretch down Duke St Hill.  Watch out for vehicles exiting from the bit of Tooley St that runs under the bridge to Borough Market.  Vehicles here will be watching the traffic to their left
and will not be expecting cyclists to appear to their right.  Also please do not overtake other cyclists.  The narrow lane is only 350m long, so time lost behind a slow rider is minimal.  Finally, watch out for pedestrians straying into the cycle lane at busy times.
Early next week when the scheme opens there will be inevitable teething problems, so take particular care, or even take a different route for a few days while things settle down.  TfL have consulted us regularly about the arrangements (Andy Cawdell and I have had a series of meetings).  They have made every effort to accommodate cyclists.  We need to make this work.  And TfL have promised to deal with problems quickly.  So if you notice something that could be improved (e.g. where an extra sign might help, or where a sign is misleading) please e-mail southwark@lcc.org.uk.
Photos taken 3.45pm Saturday 30 April