One Comment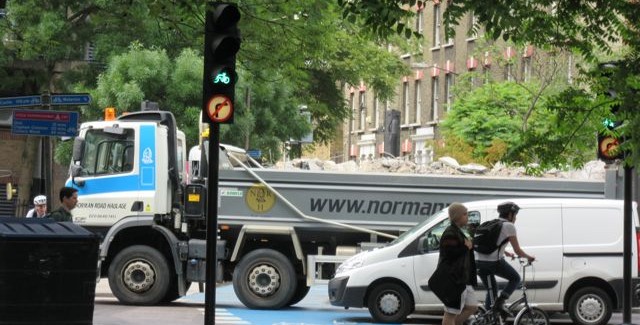 [Warning: contains bureaucracy]
In March 2016, L. emailed her friend about this cycle crossing over Newington Causeway. It's part of the Elephant and Castle cycle bypass.
Before the work was done, it was a very safe place to cross by bicycle but these days is probably the most dangerous part of my 3.5mile route. I cycle this route every day and since the work has been done I have not once been able to cross safely without weaving in and out of buses and heavy goods vehicles. I've attached some photos taken during 15 minutes I spent observing the crossing. During the 15 minutes I saw approximately 8-10 green cycle lights and not once was the way clear for the cyclists. As you can see in the photographs there are two lanes of traffic to weave through, sometimes with added pedestrians. I'm certain someone is going to lose their life there soon if something is not done. I would suggest a yellow box to encourage motorists to leave the way clear for cyclists.
Her email was posted to the Southwark Cyclists yahoo list and produced lots of agreement, analysis and suggestions.
I started to try to get this junction (and others like it on the cycle superhighways) improved more than a year ago. The correspondence with Transport for London and questions to the Mayor are posted here for those who are interested in the details of a slow and bureaucratic process.
If you just want to know about TfL's current position on three signal-controlled crossings for cyclists often blocked by stationary traffic – CS7 at the junction with London Road, CS7 at the junction of Upper Thames Street and Southwark Bridge, and this one – scroll to the end.
Earlier in 2014 and 2015
I emailed Transport for London a couple of times to complain about the cycle crossing at the junction of Rockingham Street and Newington Causeway. Drivers often block the crossing in stationary traffic; drivers who don't know the junction have no idea that there is a signalised crossing, since there are no signs and no markings on the road. I received no reply. I kept meaning to follow it up.
June 2015
We were giving out croissants and coffee for the Bike Breakfast near London South Bank University at Elephant and Castle. So I had time to watch what was happening at the London Road crossing around 9am, and to take some photos of the crossing being repeatedly blocked by buses, cars and trucks, phase after phase, when signals were showing a green light for pedestrians and cyclists. We put a quick post up on the Southwark Cyclists website:
'At rush hour, the junction of the Cycle Superhighway with London Road is frequently blocked by traffic when signals are showing a green light for cyclists and pedestrians to cross London Road. It's inconvenient and dangerous. Pedestrians and cyclists who try to weave between the stopped buses and trucks can't always be seen by drivers. The same problem occurs at the junction of Rockingham Street and Newington Causeway – but at this crossing there isn't even any blue paint to alert drivers to the signalised crossing for cyclists. Will TfL consider adding a yelllow box and Automatic Number Plate Recognition cameras at both locations?'
I tweeted my photos; Southwark Cyclists retweeted; I tweeted directly to TfL but got no reply. London Assembly member Darren Johnson took up the problem.
In August 2015 TfL replied to Darren Johnson:
While undoubtedly a source of frustration for some cyclists along London road, according to the Highway Code the vehicles stopping across the cycle superhighway are not committing an offence and we are therefore unable to enforce against this.

Due to strict criteria that must be met, we are unfortunately unable to install a yellow box at this location. Guidelines dictate that yellow boxes can only be placed at the junction of two or more roads, whereas this location is the junction of a road and a cycle track.

I'm very sorry I couldn't be of more assistance on this matter. Unfortunately, as there is no law against vehicles stopping across the cycle track we cannot enforce against this behaviour.
For me, this response demonstrates the second-class status of cyclists relative to motorists, and potentially a gap in the legislation. After all, the Highway Code prohibits cars from stopping on pedestrian crossings (Rule 192).
Although, of course, this is often not enforced, and pedestrians also suffer from crossings being blocked by stationary traffic on London Road and elsewhere. I wrote back to Darren Johnson's office:
The problem at Newington Causeway is about the lack of information for drivers – most will have no idea that cyclists have a signalised crossing here. Even if enforcement is not possible, surely it must be possible to install some advisory signs such as 'Warning: cyclists crossing' and/or to put some kind of marker showing the cycle track on the tarmac? I would stress that in all these cases it's more than just a 'source of frustration'. It's a danger, with cyclists tempted to weave between stopped cars and trucks, and it also frustrates the hopes of making cycling a reasonable choice for ordinary people.
In September, Darren Johnson asked the Mayor:
Stationary vehicles are regularly blocking Cycle Superhighway 7, in particular where CS7 intersects with London Road, and at the junction of Upper Thames Street and Southwark Bridge. The same happens further around the Elephant and Castle cycle bypass route, at the junction of Rockingham Street and Newington Causeway, which is a signal controlled junction for cyclists. This results in cyclists weaving in and out of immobile vehicles and facing considerable danger. According to the Highway Code the vehicles stopping across CS7 are not committing an offence and TfL are therefore unable to enforce against this. They are also apparently unable to install a yellow box junction at these intersections as guidelines state that these can only be introduced where two roads intersect. It is not acceptable for one of your flagship arterial cycling routes to be constantly blocked by vehicles. Will you look into measures TfL can take to stop these blockages and at the very least ask that they to install some advisory notices for motorists requesting that they do not block the cycle route?
In November, Boris Johnson replied:
On large sections of Cycle Superhighway 7 (CS7), TfL has ensured that parking and loading is restricted to outside peak hours, only to enable the majority of cyclists using the route to experience uninterrupted journeys during peak times. However, loading/unloading and parking facilities must be provided at certain locations off peak to serve local businesses and retail units. Following feedback from the cycling community on these issues, TfL is currently liaising with the Metropolitan Police to ensure those sections of CS7 where parking restrictions are in place are kept clear for cyclists. We will continue to deploy officers on the ground.
As you can see, the Mayor seems to be answering a different question from the one asked. The question was not about parking at all, but the answer was all about parking and loading. Darren Johnson asked again.
In December 2015 Darren Johnson asked the Mayor again:
Your response to 2015/2651 discusses parking and loading restrictions along CS7 yet my original question asked about the problem posed to cyclists by vehicles that are not parked but which have come to a stop and are blocking junctions along CS7. They are on the carriageway as part of the main flow of traffic. Please now explain what measures you will take to deter this practice.
The Mayor replied:
TfL employs an expert team of traffic engineers who ensure traffic signals, including those on CS7, are phased to allow enough time for vehicles to exit a junction before the next set of signals change. Unfortunately at times traffic may tailback through a junction. This can pose problems for cyclists and the efficient general traffic movement.

To help overcome such problems, TfL is investing significantly into developing and implementing sophisticated traffic management software through the £4bn Road Modernisation Plan. Such measures include sensors on the road network to ensure these sorts of issues become a thing of the past.
January 2015
Having read this reply from the Mayor, I wrote back to Darren Johnson's office to suggest that some signs and yellow paint might be useful in the meantime. He asked TfL:
Until such time as tailbacks through junctions can be totally eliminated through said 'sophisticated traffic management system' and carriageway sensors, will TfL put some signs up at this junction to warn motorists not to block the superhighway? Waiting for the techno-fix will take time when cyclists continue to face danger.
In February 2016 TfL replied:
There are strict legal requirements to adhere to as regarding where we are able to install yellow boxes and they must be designed to be compliant with DfT regulations. The provision of a yellow box also depends on the road layout at any particular location and whether it would cause additional problems for turning traffic. We therefore consider requests for yellow boxes on an individual basis, junction by junction.

We would be happy to assess the viability of yellow boxes along Cycle Superhighway 7. To this end, are you able to advise of specific junctions that Darren's constituents have observed problems?
Darren Johnson's office wrote back and suggested that TfL look at the three locations mentioned in the original question in June 2015:
1. CS7 at junction with London Road
2. CS7 at the junction of Upper Thames Street and Southwark Bridge
3. Elephant and Castle bypass, at the junction of Rockingham Street and Newington Causeway.
In March 2015, TfL replied
Thank you for your email advising of the specific areas of concern along the Cycle Superhighway 7 corridor. Having looked into the request for yellow box markings / additional signage at these locations I can advise of the following:

CS7 at junction with London Road

We are currently in the process of designing a scheme on London Road that will of course consider the safety of cyclists. We are aiming to complete this scheme within the next 12 to 15 months. Unfortunately, there are footprint markings across the cycle crossing at Princes Street [sic – should read Princess Street] which preclude the installation of yellow box markings before the scheme is implemented.

2. CS7 at the junction of Upper Thames Street and Southwark Bridge

As part of the East-West Cycle Superhighway junction improvements, we will provide 'keep clear' markings at this site. This work is to be completed by May 2016.

3. Elephant and Castle bypass, at the junction of Rockingham Street and Newington Causeway

We have recently completed kerbing works at Newington Causeway as part of the Elephant and Castle scheme. Work to resurface the carriageway is now underway and for the time being this section of the network is operating below full capacity. The section of carriageway outside the shopping centre has been closed to create a single, large area of public space.

We would not typically consider installing yellow box markings at this point in the project as we are still in the construction phase. Works on the carriageway are expected to finish in April 2016, although other improvements will continue into summer 2016.

It will take time for traffic operation to settle down and become normal for the new road layout. I can assure Darren's constituent that after completion of the scheme we will conduct a thorough programme of monitoring to assess the performance of the greatly changed junction with a view to making further safety improvements as necessary.
My starting point is that simply informing drivers about the existence of a cycle crossing would help. We will soon get some 'Keep Clear' markings on Upper Thames Street; some have gone in already at St George's Road. But do the footprint markings on Princess Street preclude the installation of 'Please keep the cycle crossing clear' signs? And despite Newington Causeway 'operating below full capacity', the cycle crossing is blocked more often than ever. How long will we have to wait for traffic operation to 'settle down' and a 'programme of monitoring' to take place?
I'm not alone in thinking that these crossings are dangerous and that they put people off using bikes. Do we need a tweak to the legislation to allow yellow boxes where a road meets a cycle track? Or a tweak to Rule 192 of the Highway Code to include cycle crossings? In the meantime, why can't TfL install some temporary signs? Now?