No Comments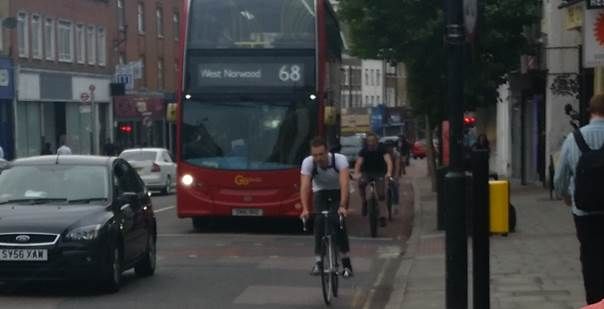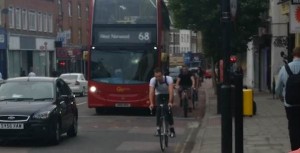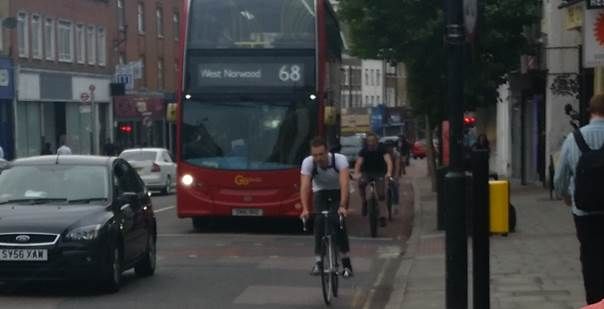 We recently blogged about the council's proposals for Camberwell Green and surrounding area. The plans are a throwback to the 1980s, with no safe space for cycling, even though the Council's own Strategy is committed to it. Instead, we've got several big steps backwards, with bus lanes removed, new right turns allowed for cars, and every single left-hook hazard (where a vehicle turning left runs over a person on a bike carrying straight on) remaining untreated. A left-hook collision like this at Orpheus St killed a King's College NHS worker on her way to work earlier this year – and the Council have proposed nothing to stop this happening again.
Neither does this proposal do anything substantial for pedestrians, the group of people this scheme is meant to help (we're all cyclists, drivers and pedestrians too..!) There's a lot of waffle in the plan description about 'the environment' and a lot of extra pavement outside the Tiger pub where it isn't needed. But where it counts – at crossings and outside bus stops – there's hardly any additional physical safety or convenience for pedestrians, and even less for mobility scooters, pushchairs or wheelchairs. The pedestrian crossings are all long, indirect and staggered, and motor traffic will still dominate the area.
It doesn't have to be like this. Nobody denies that a lot of motor traffic needs to pass through here. But this is an absolutely massive junction, and there is space for everyone, if used imaginatively. Although traffic flows are high at this junction, vehicles are already gridlocked during peak times, so an opportunity exists to redesign the junction and surrounding roads in a way which retains vehicle capacity but lowers traffic speeds. In short, Southwark Cyclists are calling for a rethink about what planners call the 'place' and 'movement' functions of this town centre, one of the most iconic in South London: we believe that Denmark Hill (outside the shopping centre) and Camberwell Church Street should be substantially calmed and made more hospitable for pedestrians and cyclists. This will actually enhance the environment, for the benefit of shoppers, service users, pub-goers, retailers and traders… in fact, everyone!
You can read more in our detailed response to the consultation. It's available here as a .pdf, and as a Google doc here.
To be continued…