No Comments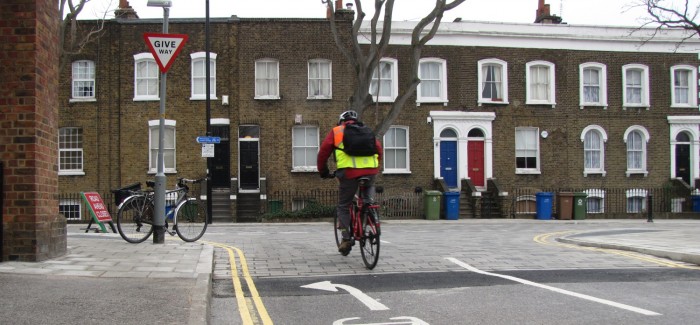 History was made last week in Southwark.  OK – its not quite on the scale of the signing of Magna Carta.  But it is important for cycling in London.
The first junction on one of the Quietways promised in the Mayor's Cycling Vision has been calmed.  This is the very first completed job on a Quietway and it has happened in Southwark.  Congratulations to Southwark Council who had the job of delivering this part of the Q1 route for TfL. The specific site is the T-junction between Chaucer Drive and Lynton Road.  A nice raised table has been built to slow traffic.  Work is also going on along Oxley Close and Abercorn Way to simplify barriers, making cycling easier (click here to see previous post).
OK, this is pretty straightforward stuff, but it is a start.  Looks as though the contractors have moved to Dunton Rd.  Here life gets interesting as new crossings are planned.  No work seems to have started on more central sections or to the eastern part of Q1 (will eventually run from Greenwich to Waterloo).  However, the planning application for the path past Millwall Football Stadium should be decided on March 26th.
Delivery is promised for May 2015.  Looks optimistic for the whole route, but does appear that we will get some of the route by then.  See more information about Quietways on the LCC site, http://lcc.org.uk/articles/londons-first-quietways-to-open-in-may-2015