No Comments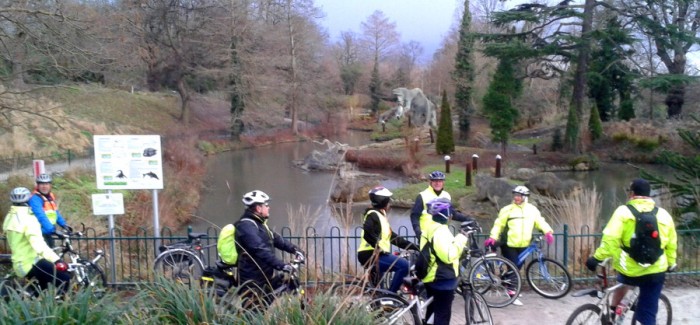 by Bruce Lynn January 19, 2015
This was a + ride, so 9.30 start. 5 riders at Canada Water on a chilly morning. Boarded the 9.42 Overground train and were joined by one more rider at Surrey Quays. 8 more riders were waiting at Crystal Palace, so 14 of us set off in light snow flurries for a circuit of the park. Snow did not last long, but there was plenty of ice.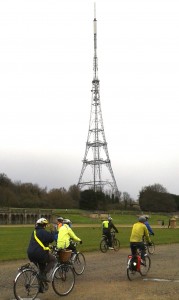 Having checked out the Dinosaurs, headed mostly by road to South Norwood Country Park via South Norwood Lake. At South Norwood Country Park we joined National Route 21, which was to be our course as far as the Thames at Deptford. Over the next stretch one rider punctured. Fortunately had a spare inner tube. But unfortunately that slowly went down. So she abandoned at Kent House station, opting to get a train home. Next Cator Park, notable for the small plaque commemorating Sustrans ?000 miles of cycle track. ?000 because plaque is in such a poor state it is unreadable. But the inscription from HG Wells "When I see a man on a bike I have hope for the human race" is still legible. Next a fairly uninspiring stretch to Bell Green. At this point the path becomes rather nice. But before heading on we had a bit of a discussion about time. By my estimation we were not going to get to Canada Water until 1.30 at the earliest. Taking our time in Crystal Palace Park plus the puncture had destroyed my estimates of likely progress. Everyone decided to stick together at least for the next stretch.
Now on the Waterlink Way, following the Pool and Ravesbourne Rivers. This mile or so from Bell Green to Catford is one of the nicest off-road rides in London. And on a crisp January morning, really rather pleasant. At Catford negotiated the tunnel under the South Circular Road and the awkward barriers put up by the builders now converting the old Catford Stadium into housing, and into Ladywell Fields. Then at Ladywell Rd 2 riders headed directly home in the Nunhead direction. The rest of us pressed on through Lewisham and Brookmill Park to the Thames at Deptford Creek. Quick look at the new swing bridge (not open – but it is now – opened Monday 19th Jan), then along a familiar riverside route. Back at Canada Water at 1.30. So late – but no later than predected at half way.
The weather had been kind and my new phone app (Ride with GPS) clocked up 18 miles and another rider declared 900 calories burned. Route at http://goo.gl/2932VA
Next ride, 10am, Sat 24th Jan, Peckham Square