April 6, 2016 @ 8:00 am

-

8:45 am
Event Navigation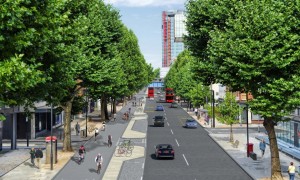 Experienced, trained ride leaders will escort you safely to work in central London. Our Bike Train route has 3 metres of pavement, a metre of raised concrete or 30 metres of park between you and the traffic at all times. Going from Nunhead to Blackfriars, via Peckham, it includes two parks, a traffic-calmed backstreet, a cycle lane on the pavement, the Elephant and Castle bike by-pass, and finally the new segregated cycle lanes. The only part where you share the road with traffic will be Rye Lane. That's as bad as it gets!
Small groups leave Nunhead station at 8am every Wednesday morning, pick up riders at Peckham Rye station (from bike stands behind McDonalds). You can expect to arrive at Blackfriars at 8.45am; cycling is that reliable.
A rider who tested the route wrote: "it's lovely. I really enjoyed it. I'll be doing it on my own from now on".  Return rides arranged to fit individual needs.
Bike Buddies are also offering to teach new routes to other places. If Victoria or London Bridge are your bag, then get in touch and we will arrange something especially for you.
Map of the route is here: https://goo.gl/q3Ksmw