Plus de Dr Bike
March 31, 2016 @ 5:30 pm

-

7:30 pm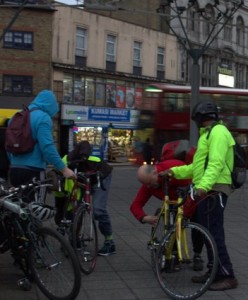 Dr Bike hard at work under Peckham Arch, looking south towards Peckham High Street and Rye Lane. The one in red, head down, with no hair is the boss, Andy Cawdell.
Andy and others will be fixing bikes for all comers aided by the usual suspects on March 31st. Probably be a bit lighter than the photo suggests because of the hour change.
Together they will fix punctures, brakes and weird gears. They will fit parts if you bring them (or rush off and buy them from the good local bike shops).
Sadly, no coffee. The workforce never gets time to drink it anyway.