No Comments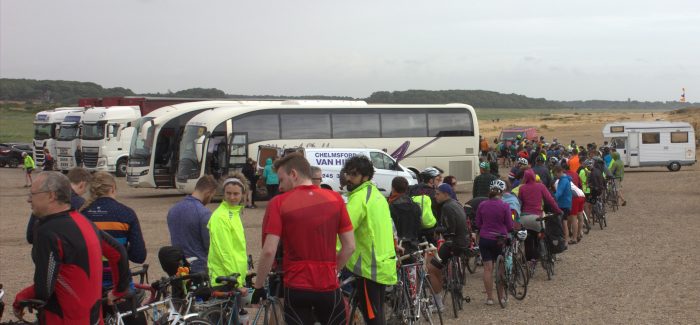 Dunwich beach. Queues for the coaches home. Cyclists who have been riding all night, waiting to board the coaches back to London. Lorries in the background are for their bikes. Shortly after this picture was taken torrential rain set in and the wind blew.
The Dynamo is a 200 km night ride from London to the lost city of Dunwich on the Suffolk coast. In the Anglo-Saxon period Dunwich was the capital of the Kingdom of the East Angles. At its height it was an international port similar in size to 14th century London. Its decline began in 1286 when a series of storms hit the East Anglian coast and much of the town was washed away.
The Dynamo is a free, traditional event; something like Christmas but with less eating and more cycling. This informal 'turn-up-and-ride' event sets off from London Fields in Hackney all the way to glorious Dunwich Beach (the steep shingle beach makes for a great cleansing wake-up swim)
The problem of getting home again has been solved by Southwark Cyclists (a non-profit branch of the London Cycling Campaign charity). They organise coaches and lorries (see pic) so that tired but triumphant riders can sleep all the way home.