No Comments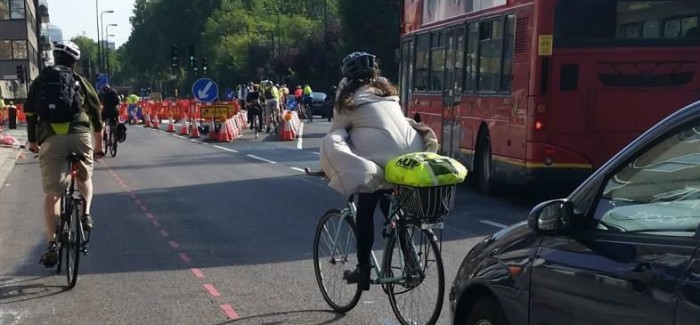 We want this here ……………….
……………………………….
News Release
Sian Berry
Green Party London Assembly Member
Cycle sting police initiative on 'close passes' must be rolled out
Green Assembly Member Sian Berry has called for a London-wide roll out of an initiative in Camden to improve driving standards and cut down on 'close passes' of people on bikes.
A short trial of plain clothes police on bikes monitoring bad drivers on the streets of the borough has proved a success, figures from the Mayor have revealed, in response to a question from Sian Berry.
In just three two-hour shifts in Camden at the end of last year, eight driving offences were reported, a further four drivers were talked to about passing cyclists closer than the safe distance of 1.5 metres, and more than 50 other road users were stopped and educated by officers about their driving standards. [1]
Sian Berry said:
"In just six hours, dozens of people have learned a valuable lesson from this small team of officers in Camden.
"Close passes are highly dangerous and terrifying for people on bikes. More drivers have to learn they should not overtake until they can leave a safe distance between us and their vehicle.
"Officers in Camden have led the way with this pilot and the Mayor should make sure all boroughs are able to have dedicated teams of police for this work.
"I am very disappointed that number of officers doing road crime work has been static despite danger for vulnerable people on the streets increasing in recent years and I'll also be calling for a boost in these units within the Met in my response to the draft Police and Crime Plan." [2]
The pilot was started by Camden borough officers in October, inspired by similar work in the West Midlands. [3]
The Near Miss Project from the University of Westminster found in 2015 that people who commute by bike on London's roads experience on average one 'very scary' potentially dangerous incident per week, and nearly a third of these were close passes. [4]
1. Close Pass offences trial results from Camden – MQ 2016/4613 by Sian Berry
http://questions.london.gov.uk/QuestionSearch/searchclient/questions/question_291097
2. Road crime traffic police funding  – MQ 2016/4611 from Sian Berry
http://questions.london.gov.uk/QuestionSearch/searchclient/questions/question_291095
3. Camden Police go undercover to target close passing motorists, London Road Safety Council, Oct 2016 http://londonroadsafetycouncil.org.uk/camden-police-go-undercover-to-catch-close-passing-motorists/
4. Cycling Near Misses – findings from year one of the Near Miss Project, Sep 2015 http://www.nearmiss.bike/wp-content/uploads/2014/12/Nearmissreport-final-web-2.pdf
………………………………..