No Comments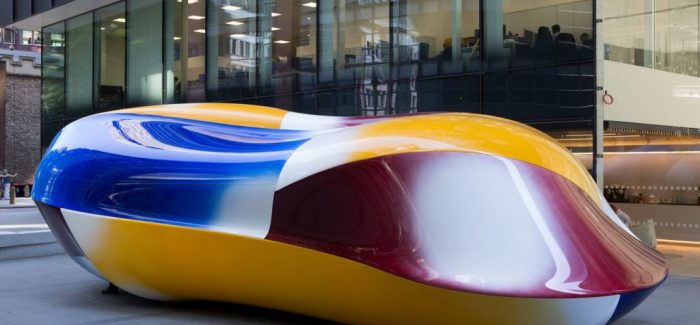 by Bruce Lynn December 27, 2018
We started running a Boxing Day ride in 2015. Five brave cyclists turned out, led by Werner, whose idea it was. Four years later Werner was out again, but now numbers have risen to 22 riders. Here is his ride report.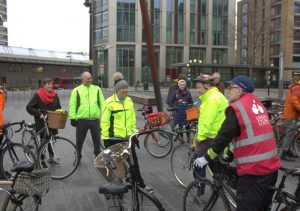 Maybe Brexit discussions over Christmas dinner motivated more people to get away from the family on Boxing Day, 22 riders joined the traditional Boxing Day ride (and one dog), a new record. Not only is it a chance to explore modern art and look at some of this year's Sculpture in the City (https://www.sculptureinthecity.org.uk/artwork/8th-edition/) exhibits but the City is also very deserted and there are fewer encounters with cars (on roads) and pedestrians (in the secret alleys and lanes).
Over Tower Bridge and left off the Minories to show French Ordinary Court, always fun to lead riders new to it into what looks like a dark cave without an exit. Subdued enthusiasm for the first sculpture on our route, "Synapsid" outside Fenchurch St station. The next one, "Perceval", was quite a contrast and had a complementary set of admirers. After the horse-drawn carriage a large jump in time if not in space to "UNIVRS", a slice of an Airbus A300. A dry day so appropriate to have "Sari Garden" on a washing-line in Heneage Lane.
The Gherkin on a healthy ride always brings back memories of Ai Weiwei's bicycle structure but this year two smaller installations by other artists: "The Adventures" offering dynamic billboards and Tracey Emin's "Your Lips Moved Across My Face". The latter was less accessible (that's not a comment about its artistic value, just that it's in a cycle-hostile passage with steps at both ends).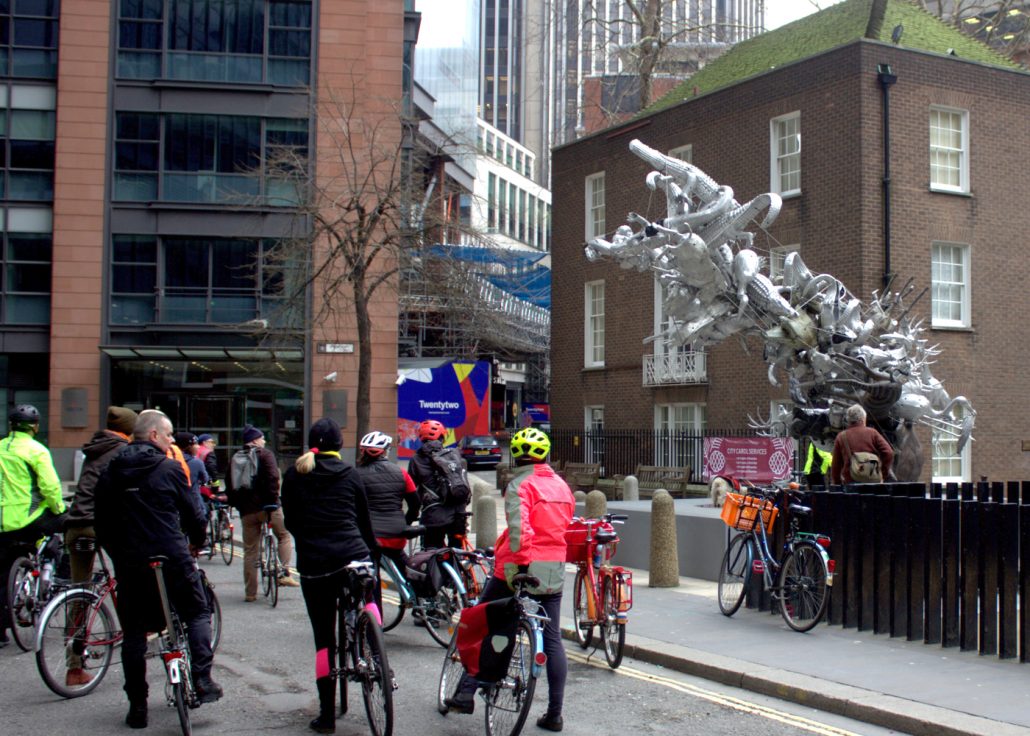 Undershaft was very efficient, three sculptures close together. Good that "Crocodylius Philodendrus" didn't upset the dog, "Body" and "Numen" completed the set. Ok, not quite, two more "Numen" under the Leadenhall Building framing an illuminated Christmas Star (probably not an art installation).  "Stack Blues" outside the Willis Building (that's exactly what it is), before Leadenhall Market and the challenge to find the two installations. Not as difficult as the canoe a few years ago but these, "A Woldwide Web of Somewheres" and "I'm Staying", were also well above eye-level, the latter unfortunately not switched on but it's title also a good summary of its content.
The riders had been promised City lanes and City lanes they got, across Gracechurch Street into Bell Inn Yard and to Exchange Alley before crossing Cornhill and into Finch Lane. Then back to the known world and a bit of Bishopsgate before everybody missed "Pepper Rock" on the corner with Wormwood St because they looked up at Bridging Home and wondered whether it's a solution to London's housing shortage. That completed the art tour but there were still a few lanes to explore and kerbs to jump: Austin Friars Passage, Telegraph St, Gt Bell Alley and Manson's Avenue. As we visited the City a loop around Guildhall was mandatory before heading down via King St and Queen St to Southwark Bridge and another opportunity to show riders Q14.
Reversing the morning's ride along the Rotherhithe riverside but making up for the earlier lack of gradients by climbing to the basecamp of Stave Hill before watching children play with Christmas toys in Russia Dock Woodland.
Back at the library at 12:00 exactly. A quick poll didn't produce an overall winner: Perceval, Crocodylius and Tracey Emin all had supporters.
If you are reading this in time, there is another Christmas Week ride on Dec 29th, 9.30 at Canada Water Library, again Werner leading (see Events listing for a touch more info).