No Comments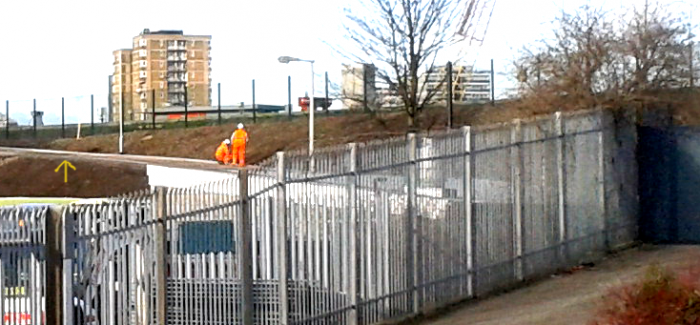 The new path from the Connect 2 bridge at South Bermondsey station to the existing path from Surrey Canal Rd to Oldfield Grove (called Senegal Way according to the Open Street Map) is now clearly visible.  It runs along the railway embankment.  In the picture, 2 workers in high viz are looking at it and 2 yellow arrows also indicate its location.  Photo is from the existing path, which can be seen bottom right.

When complete this will provide a key off-road link allowing most journeys to avoid Ilderton Rd.  As well as forming part of Q1, it will also be part of NR425 from Burgess Park to the Thames in Rotherhithe, at the proposed site for the Brunel Bridge.
Work is being done by Sustrans and has been delayed by extra work needed to stabilise the embankment.  But it looks promising now.  Will contact Sustrans and see if there is a provisional opening date.
Update:  Received the following:
Yes its really coming on. Tarmacking the main path is due to be completed this week [Feb 8-12]. Still quite a bit of work to do at Bolina Road end – which I understand will take us into March. Will let you know when we have anything more certain.
Bryn Lockwood
Infrastructure Delivery Manager, Sustrans London