No Comments
There are a number of changes on the way  – we ride these in our traffic works rides – please let us know of problems for cyclists …………..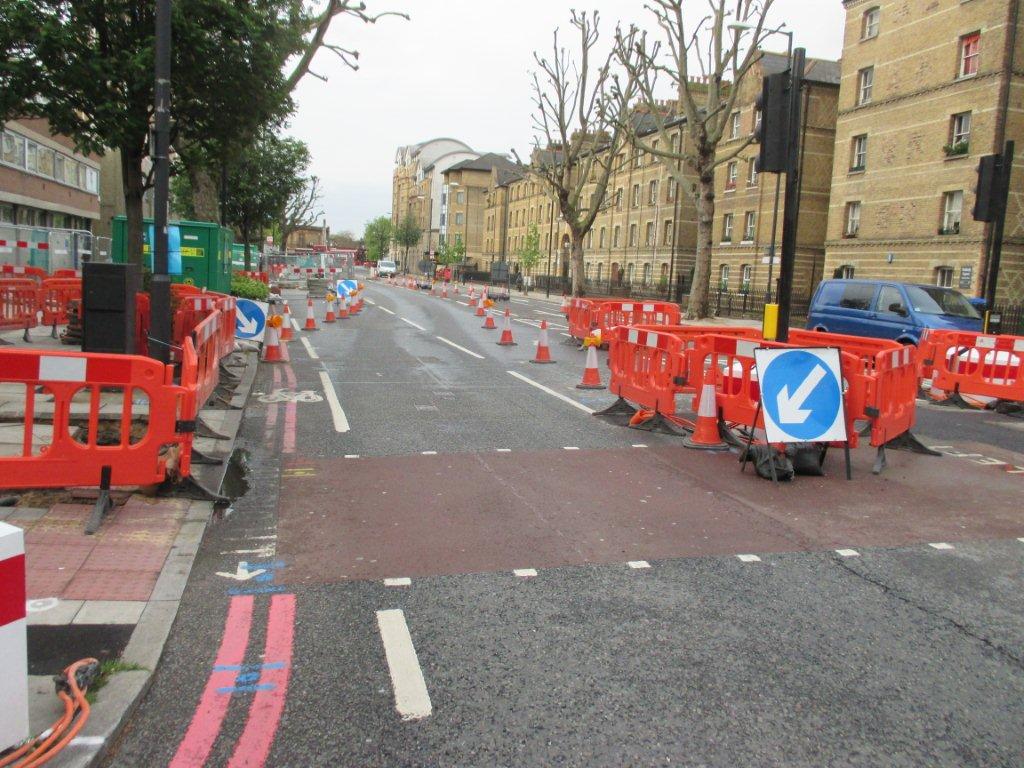 London Road closed 27-28 June and 4-5 July
London Road at St George's Circus will need to close over two weekends for works to construct the North-South Cycle Superhighway:
Closed 08:00 on Saturday 27 June until 22:00 on Sunday 28 June
Closed 08:00 on Saturday 4 July until 22:00 on Sunday 5 July
Road users will be diverted via Borough Road and Newington Causeway during the closures
Access for local residents and businesses will be provided via Borough Road, Rotary Street and Thomas Doyle Street, which will be two-way during the closure
Northbound buses will not be affected. Southbound buses will be diverting via Borough Road and Newington Causeway
Subways Closing 2 July 2015
Works for the Elephant and Castle Improvement Project have been underway since 9 April 2015. We have been moving the kerbs around the gyratory island to create space for the new roadway and installing a segregated cycle lane.
We are about  to move into the next stage of the project and start work around the outside of the gyratory. This means we will need to close some of the subways at Elephant and Castle.
From 2 July 2015, TFL plan to close the subways at:
St George's Road
London Road
Newington Causeway
The subway ramps alongside the Bakerloo line station will remain open, while the pavement is closed for works to relocate pipes and ducts. Pedestrians will be able to walk directly between the station and Newington Causeway.
Available subways and pedestrian crossings
The subways below New Kent Road and the Elephant and Castle link road will remain open until later this year.
Existing pedestrian crossings at the roundabout will also remain open until later this year, when they may need to close while we build new crossings:
London Road
New Kent Road (between the gyratory island and the south side of New Kent Road
Other nearby pedestrian crossings will remain open throughout the works:
St George's Road (near the junction with Oswin Street)
London Road (near the Princess Street/Ontario Street junctions)
Newington Causeway (near the Southwark Bridge Road/Rockingham Street junctions)
New pedestrian crossings will then open early next year, once the extensive changes to the layout of the roundabout are complete. The new crossings will provide safer and more convenient access between transport links and local amenities.
Road users
We need to change the road layout of the gyratory so we can work on its outside lane, but we will open completed inner sections to ensure three lanes are available to traffic. These changes will be made overnight, 1 July to be in place early on 2 July. Some further delays may occur as traffic adjusts to the new layout
One lane of the gyratory will be closed to traffic until December 2015 when it opens to two-way traffic. Journeys may be affected and we advise road users to check tfl.gov.uk/trafficnews before they travel. If you have the flexibility to do so, consider driving outside of the busiest times as you could have a quicker and more reliable journey
Pedestrians
Pedestrian access around the gyratory will be available at all times, although diversions may be in place at times. Any diversion will be signposted
Further information
TFL say they are working to minimise any disruption and apologise in advance for any inconvenience caused by these works.
Visit tfl.gov.uk/elephant for more information on the Elephant and Castle Improvement Project