No Comments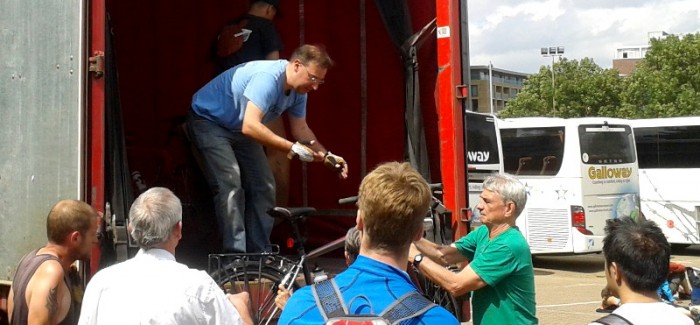 Dunwich Dynamo unload report, 5th July 2015
Early rain – only light rain – at Surrey Quays Shopping Centre. A small group of us from Southwark Cyclists waiting late morning last Sunday in the far parking area. 11.30 came and went, then, at last, around noon 4 coaches wound their way along the perimeter road and into our area. Now there were 200 of us waiting for – the truck!  Fortunately, not a long wait until a large red artic turned in, the sun came out, and the hard work of the day began.
Off came the bikes to be reunited with their owners. And off disappeared the cyclists wending their way home across South London's roads. Over the day the whole process repeated 4 times as 1007 cyclists retrieved their bikes. Lots of smart road bikes, some more humble town bikes and a few tandems and recliners. Even a cargo bike!
Surrey Quays proved an excellent location. Not too hard to access, and with food and toilets available. Rather suspect the adjacent petrol station has never sold a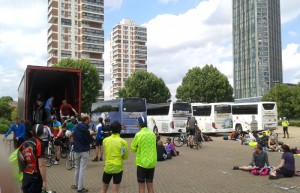 s much coffee on a Sunday morning!
Many thanks to the unload crew: Amy Aeron-Thomas, Mark and their sons Jonnie and Matthew, Francis Bernstein, Ray Welsh and Paul McQuillen. A many, many thank to the Surrey Quays Shopping Centre whose manager Jayne Coogan allowed us in and whose security staff were so helpful on the day (thanks especially to Ray, the Duty Manager last Sunday).