No Comments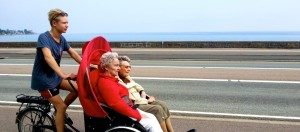 Cycling Without Age started in Denmark (like many good things) and the picture probably shows the sea because it's visible from nearly everywhere in Denmark (exaggeration, please don't write in).
Not beside the sea but possibly beside the Thames, a new group wants to do this sort of thing in Rotherhithe. They have bought three tri-shaws (this sort of thing) with help from the United St Saviours Charity and Cargobike Life CIC.
Now they need volunteers to pilot them. You can offer to do your bit here http://www.timeandtalents.org.uk/index.php/cycling-without-age-southwark/ and there's lots more information as well as a big blue button that says "Get Involved". You click it.