No Comments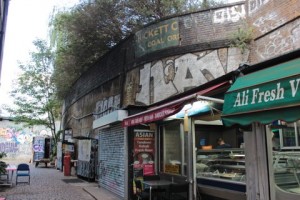 Great idea but short on nitty gritty. To come to pass it needs two new bridges across roads, two built-out platforms slung beside the railway tracks and (the easy bit) a big hole in a concrete wall, plus ramps up and down for bikes.
The project is named after the eponymous coal line which ran into coal merchants' sidings opposite Peckham Rye Station. This was the coal distribution centre for south east London in the days before the Clean Air Acts. The coal yards closed in 1954 and are now a scaffolding yard.
The picture above shows where the coal merchants used to get their coal. They had hoists to get the coal down from the sidings. The visualisation shows steps to get up and down here and it's hard to see how the sort of ramp which would attract cyclists could be fitted in.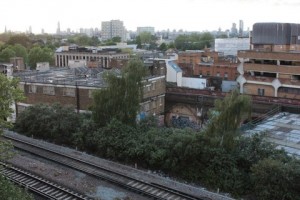 Once up there, there would be 21′ of space to share between cyclists, pedestrians, wildlife and a wall stopping everyone who makes it up there from straying onto the railway tracks. The picture taken from the top of the Bussey shows what's there now.
There's a feasibility study underway which is due to report late this year. The bridges, built-out platforms and ramps are going to make it pretty pricey. There are a lot of cheaper ways to get cyclists from Peckham Rye Station to Queens Road.