No Comments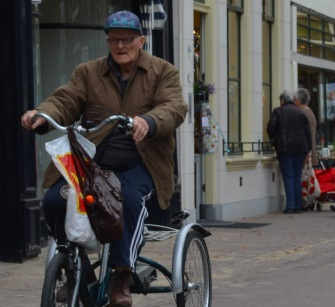 Southwark Council are currently asking "How can we make Southwark more age-friendly?"
And of course here at Southwark Cyclists, we know what part of the answer is: easier cycling for everyone! Here are some of the reasons why…
Cycling is a good way of incorporating physical exercise into daily life, keeping people fitter and healthier for longer; physical exercise also reduces the risk of dementia.
Cycling is much less dangerous to others than driving when someone has reduced reaction times, eyesight or hearing. And as reaction times slow down, it is important that cycling can be done in a calm and safe environment. Quiet roads and segregated cycle tracks which are suitable for '8-80 cycling' are also suitable for mobility scooters, wheelchairs and other mobility aids. (10mph mobility scooters may not be used on pavements, but are about the same speed as slower cyclists.)

Mobility scooter on the new Oval cycle track.
Cycling may be possible when walking is not, using electric assist bikes, tricycles, handcycles or even a standard bicycle. It can also provide opportunities to get out and about when someone can no longer travel independently.
Pictures from the charity Wheels for Wellbeing, who support disabled people of all ages and abilities to enjoy the benefits of cycling, and operate at Herne Hill velodrome, among other venues.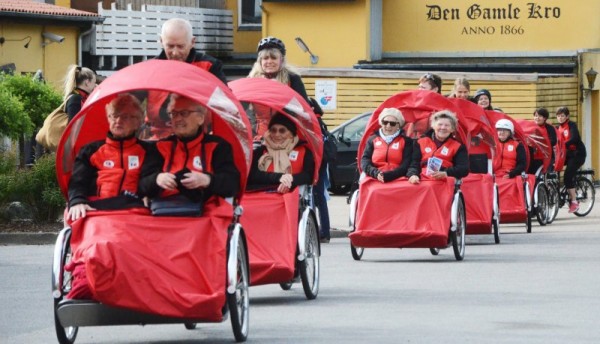 "Cycling without Age", a Danish group taking care-home residents out and about. It's spreading to Southwark – see Time and Talents, Rotherhitheor Cycling Without Age, UK.
Residential streets which have been made safe and attractive for cycling through reduced speed and volume of traffic are also better for pedestrians: easier to cross, more pleasant to rest in. Reduced traffic is beneficial for everyone's health, due to reduced pollution, reduced noise and reduced risk of being run over. Reduced traffic also increases community on those streets, reducing isolation from neighbours. (See e.g. Living Streets' report No Ball Games Here).
Cycling allows greater mobility and autonomy than walking or public transport, allowing continued participation in all areas of life outside the home. This also provides new topics of conversation, making it easier to start conversations with visitors or new acquaintances. Cycling is an activity that can be done together with family members of every generation, and can be a great excuse to spend time together. If the environment is easy enough (if you don't have to concentrate on traffic and navigation), cycling can be very sociable. And the pleasure of cycling regularly, perhaps on organised rides with other people, can provide incentive to get out of the house.
People from every generation can cycle together in the Netherlands, where a welcoming environment is standard. Photo from As Easy As Riding A Bike's blog post on inclusive cycling. (Top photo of a Dutch man going shopping with his tricycle is from his related post on cycling privilege.)
Many members of Southwark Cyclists are retired themselves, and find cycling an excellent mode of transport – and source of fun! One recently cycled up the Alpe D'Huez. (I can't do that, but give me 30 years of regular cycling…)
So we would like to see the Southwark Cycling Strategy goal of "cycling for all ages and abilities" realised. Southwark can be more age-friendly by shaping our borough's roads to be easier to cycle on whatever our abilities, and letting everyone know that cycling is not just for the young and fit, but for everyone who wants to get out and about and enjoy our borough.
Are you or people you know getting older and less mobile? Would you benefit from a non-standard cycle, a partner to ride with, refresher training or social rides? Get in touch! Or does the lack of space for cycling make you wish London would just go Dutch? Then Sign For Cycling, and let our next Mayor know that mobility is for everyone, not just those who can drive or run.
And if you want to answer the survey for yourself, it is open until Sunday 8th May here: Consultation link.