No Comments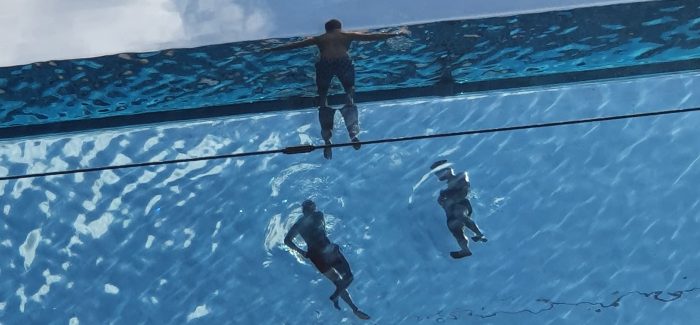 by Bruce Lynn June 6, 2021
The Healthy Rides are having fun
Last Saturday (5th June) there were 2 healthy rides. The longer ride headed west to Battersea Power Station. On the way a small diversion was made to the aerial swimming pool 10 stories (50m) up between two apartment blocks in Nine Elms. And as the photo shows, there were people swrimming! For more info go to https://www.embassygardens.com/sky-pool/ and be sure to watch the completely OTT marketing video!
The second ride was a feeder from Dulwich and Peckham to the Brunel Tunnel Museum Open Weekend. Katherine McAlpine, the museum's new Director, had contacted Southwark Cyclists to see on we would be interested in organising a ride to their Open Weekend. The result was a lovely sunny ride to the Tunnel where we were greeted by Katherine who arranged for us to have a group tour. Amazing. You can now access the original entrance area over the tunnel shaft and the museum area tells the story of this first tunnel anywhere that went under water. The weekend will be over by the time you read this, but you can pay (not very much) to go to the Tunnel Museum any weekend.
So if you fancy a rather different, often slow, social ride, come and join us any Saturday mornng. We cannot promise a historic tunnel or a Sky Pool every week, but we do have fun. Check our section of the web site for more information.