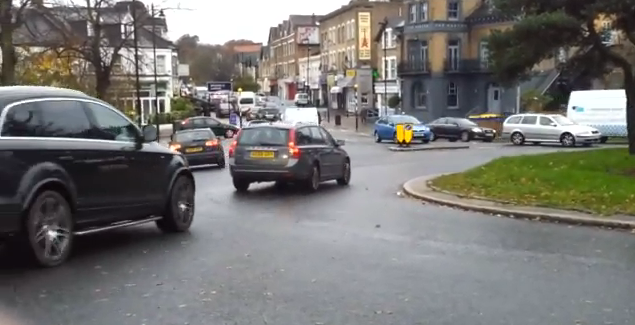 Changes are afoot around Paxton Green Roundabout, a crucial intersection where Southwark collides with its neighbours.
Southwark Council produced a report about the situation and we issued our response.
Southwark Cyclists' response
Southwark's role is to provide cycle routes for many people from other boroughs as well as its own residents. This should be reflected in higher allocations in terms of funds for cycling routes in and through Southwark. We feel that Southwark has a unique role as the last port of call for cycling journeys from all of the boroughs which lie south of theriver and there is a clear need to provide multiple safe routes through Southwark for journeys into the City and Westminster and on to north London.
2. Objectives
Overall we feel that the core components of the task to be achieved in the
longer term are to:
• Provide safe routes into central London from the principal population centres in the
Southwark of: Bankside, Borough and Bermondsey; E&C and Walworth; Camberwell; Peckham and Nunhead; East Dulwich and Dulwich Village; Canada Water/Surrey Quays
• To provide safe links for cycling between the principal town centres (listed above) within Southwark
• To provide maximum benefit by linking with provision in neighbouring boroughs of Lewisham and Lambeth such as with Lambeth through a north-south route running along the borough boundary.
Analysis of Cycling Potential from Transport For London on where is the greatest potential for growth in cycle travel. Their key findings were that a quarter of potentially cyclable trips are made within inner London, 54 per cent within outer London and 9 per cent travelling between the two regions.
A high density of potentially cyclable trips are made within central and parts of inner London and around the outer London metropolitan town centres. In particular, more than 30,000 potentially cyclable trips had an origin or destination in each of Croydon, Ealing, Bromley and Ilford town centres.
There is particular potential for growth in a number of different markets: short hops in central London (around 100,000 trips); commuter trips from inner and outer London to central London (nearly 400,000 trips); and local trips in inner (1 million trips) and outer London (more than 2.3 million trips).
The segment next most likely to cycle is "Young Couples and Families?" concentrated in a ring on the borders of inner and outer London.
Huge potential exists in highly dispersed trips across outer London, demonstrating the continued need to maintain investment in interventions targeted at and able to reach all Londoners.
Paxton Green roundabout report