Boat Race Ride
Art Deco Ride
Boat Race Ride
Report from Ride Leader Jamie.
We set-off from Waterloo with 12 of us with Juliette as Backstop clutching a hot water bottle. We got to Putney Hard in good time where we stopped for coffee to get out of the wind and watch the Crews preparing for their forthcoming races. We then set of Surrey side of the river where unfortunately one rider had to call it a day as his bike seemed to have suffered several terminal mechanical failures which were irreparable where we were. We carried on steadily and Geraint's mudguard somehow broke off jamming his front forks. Between them he, Eduardo and Jackie managed to do some emergency repairs and we all set off again passing underneath Hammersmith bridge and onto Barnes bridge before stopping at a key Boat Race viewpoint by Mortlake. With the frigid air we carried on without hanging about and reached our lunch venue the Ship Inn that overlooks the finish post at Chiswick bridge. Bingo !! just as we arrived the clouds parted and the sun came out. Seated on their sheltered veranda we happily ordered toasted sandwiches etc which went down very well for about 20 minutes until the sun disappeared and the temperature fell rapidly again when we all decamped inside.
After lunch we crossed Chiswick bridge and stopped for a moment to look at the finish and then carried on down the Middlesex side of the river which is far easier going and made good time whilst we stopped every once in a while to take in the unique vistas of that part of the Thames. By the time we got down to The Fulham Palace it was 3:30pm and the sun had suddenly come out once again encouraging us all to have a quick tour of the palace gardens where we all had a cup of tea and some cakes in the sun outside their fabulous tea rooms. From there we headed back through Chelsea Harbour hugging the river all the way back to Battersea and then cut through the park making our way back to Vauxhall. At this point we ended the ride as the majority all riders had no wish to go back to Waterloo, preferring to head home from Vauxhall.
Despite the chilly wind it was a very successful ride which will hopefully be repeated next year.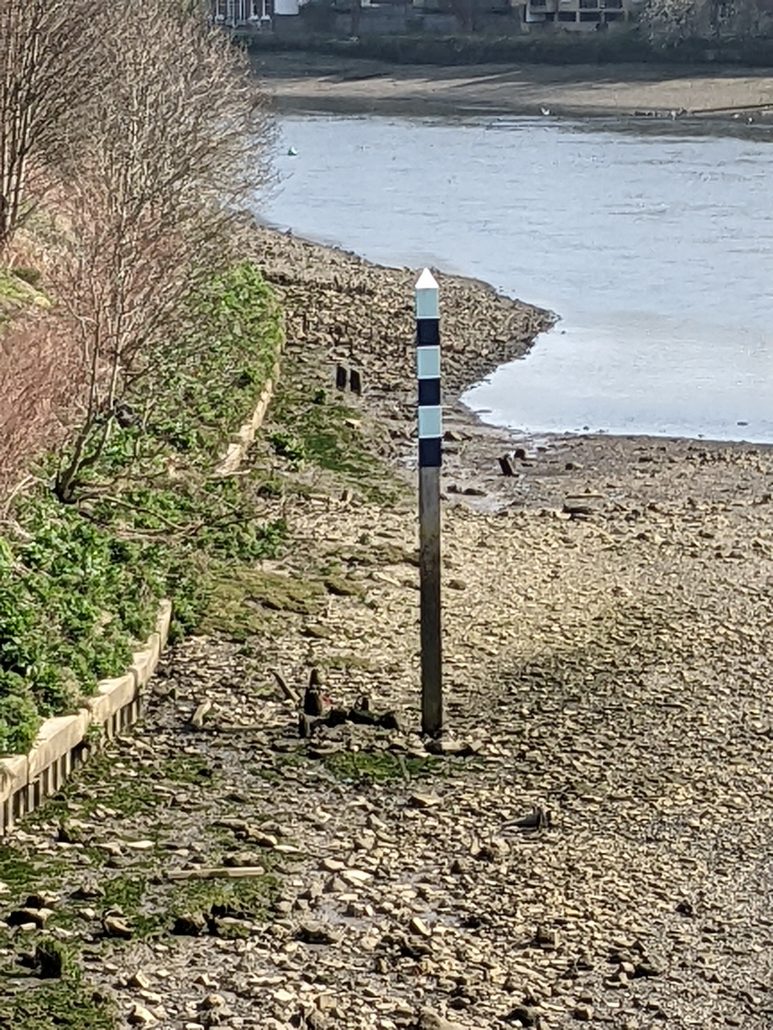 More photos from Jacqui on Facebook, https://www.facebook.com/groups/553896211918871/permalink/1020135861961568/
Art Deco Ride
We have not done an architecture-related Healthy Ride, I think, ever. This was the choice made by Eva for her first try at leading. And the end result- a super ride, meticulously researched.
13 of us set off from the south side of London Bridge and did not have far to go to reach an art deco building – the first block on the north side!  Adelaide house, a building most of us had passed before without a glance, turns out to be Grade 2 listed and with good reason. Completed in 1925 it was one of the first art deco buildings in London, the first built using steel frame techniques and at the time the tallest block in the square mile (at 11 stories – how times change).
There followed a succession of stops at art deco buildings with Eva telling us a bit about each one. A full list is appended. Stops included the Telegraph and Express buildings in Fleet Street, the University of London Senate House in Bloomsbury and appropriately the Royal Institute of British Architects headquarters in Portland Place. There were some surprises too. In a Bloomsbury back street an amazing black and white building that was built for Daimler, The north wing had steadily rising windows as this included a spiral ramp up to the first floor car showroom. One of the last buildings was the Savoy Hotel. Externally this is clearly not art deco. It was built in 1889 and the exterior reflects that. The art deco fame of the Savoy is due to its interior design which was changed in the late 1920s and is very art deco. Sadly we did not have time to take a look.
We finished back at London Bridge where as we crossed the art Deco riverside frontage of Hays Wharf could be seen. Our last building, number 11, was St Olaf House, just down the hill from the Needle.
Very educational and enjoyable ride. Thanks to Simon S. for back marking and especially to Eva for leading. Route map at https://www.google.com/maps/d/u/0/viewer?mid=1yltDr79SQJJQhWWC-Uftd45raJc9q6DX&ll=51.51747664238614%2C-0.12412993263582361&z=14
Link to list of all 11 buildings with short notes about them: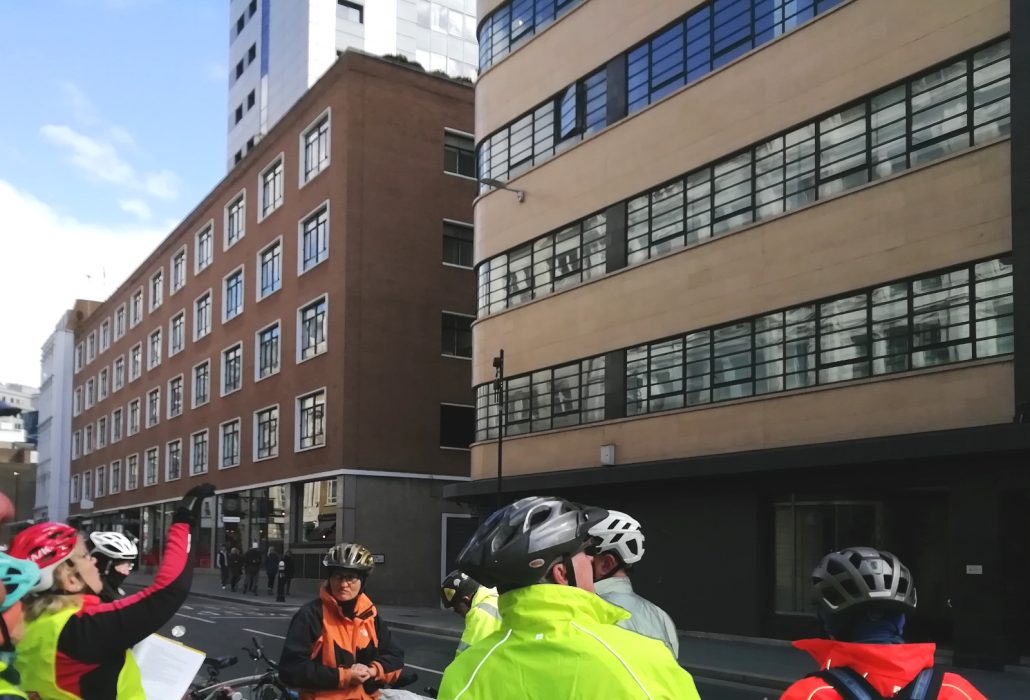 Back to Ride Report 2022 Index
Back to Healthy Rides Home page.