December 5, 2021 @ 10:00 am

-

12:00 pm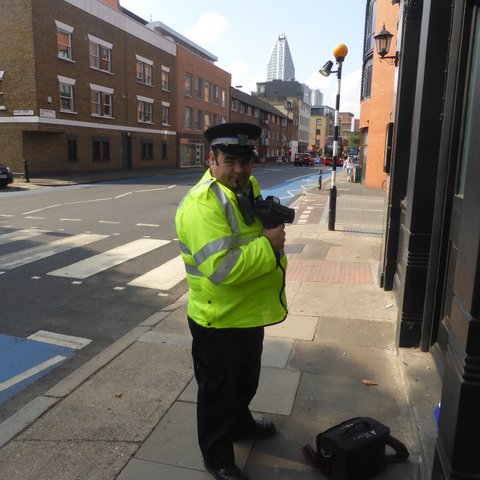 Southwark Cyclist Werner is a man who likes staying alive and after one particularly close pass, he decided to act. He will be wielding the speedgun on Long, Lane aided and abetted by PCSO Kevin Phillips.
Kevin is an affable soul (see pic above) but he tends to chat so it's important to keep him on task. He's also got a new baby at home which can be very distracting. However, he has put together December's Speedwatch schedule and you are invited to join in.
As an example of what you can catch, here is the best so far: https://southwarkcyclists.org.uk/66-in-a-20mph-zone/.  The December schedule is below. To take part email Kevin on kevin.j.phillips@met.police.uk. If you know some better places, tell Kevin that too, and he will try and fit them in.
| | | | |
| --- | --- | --- | --- |
| Thursday 2nd | 10am-12pm | Sydenham hill with crescent wood road |   |
| Friday 3rd | 10am-12pm | east dulwich grove |   |
| Saturday 4th | 10am-12pm | village way/halfmoon lane | |
| Sunday 5th | 10am-12pm | long lane | |
| Wednesday 8th | 15.30-17.30 | village way/halfmoon lane |   |
| Thursday 9th | 15.30-16.30 | dog kennel hill quorn road |   |
| friday 10th | 10am-12pm | Salter Road / Lagado Mews | |
| Monday 13th | 15.30-17.30 | lordship lane/court lane |   |
| Tuesday 14th | 10am-12pm | Southwark bridge road /sawyer road |   |
| Wednesday 15th | 10am-12pm | sydenham hill with crescent wood road |   |
| Monday 20th | 15.30-17.30 | Herne Hill Frankfurt Rd |   |
| Tuesday 21st | 15.30-17.30 | lordship lane/court lane |   |
| Wednesday 22nd | 10am-12pm | lordship lane/court lane |   |
| Thursday 23rd | 10am-12pm | dulwich wood park/KINGSWOOD ROAD se21 |   |
| Friday 24th | 10am-12pm | Salter Road /Lagado Mews L |   |