December 3, 2021 @ 10:00 am

-

12:00 pm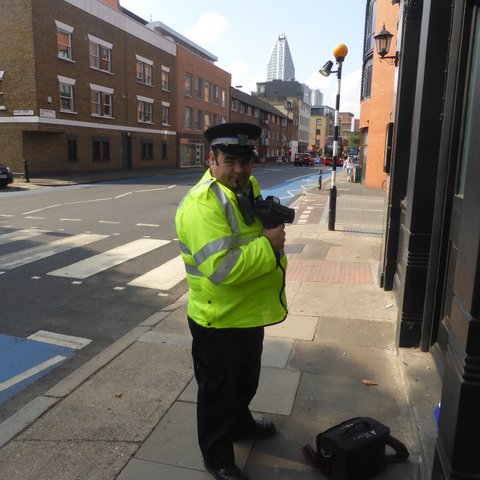 A Southwark Cyclists volunteer will be holding the speed gun in East Dulwich Grove — giving drivers a little surprise when they tear out of the traffic lights.
Fortunately the speedgun holders are protected by the long arm of the law in the form of PCSO Kevin Phillips and he in turn benefits from evidence that the community cares about speeding and wants to control it. It's a win-win situation. The December schedule is below. If anything catches your eye contact Kevin on kevin.j.phillips@met.police.uk and volunteer. If you have other times and places to suggest, Kevin is very open to offers. His picture is above. A peaceful man.
| | | | |
| --- | --- | --- | --- |
| Thursday 2nd | 10am-12pm | Sydenham hill with crescent wood road |   |
| Friday 3rd | 10am-12pm | east dulwich grove |   |
| Saturday 4th | 10am-12pm | village way/halfmoon lane | |
| Sunday 5th | 10am-12pm | long lane | |
| Wednesday 8th | 15.30-17.30 | village way/halfmoon lane |   |
| Thursday 9th | 15.30-16.30 | dog kennel hill quorn road |   |
| friday 10th | 10am-12pm | Salter Road / Lagado Mews | |
| Monday 13th | 15.30-17.30 | lordship lane/court lane |   |
| Tuesday 14th | 10am-12pm | Southwark bridge road /sawyer road |   |
| Wednesday 15th | 10am-12pm | sydenham hill with crescent wood road |   |
| Monday 20th | 15.30-17.30 | Herne Hill Frankfurt Rd |   |
| Tuesday 21st | 15.30-17.30 | lordship lane/court lane |   |
| Wednesday 22nd | 10am-12pm | lordship lane/court lane |   |
| Thursday 23rd | 10am-12pm | dulwich wood park/Kingswood Road se21 |   |
| Friday 24th | 10am-12pm | Salter Road /Lagado Mews  |   |
| Thursday 30th |   | leave |   |
| Friday 31st |   | leave |   |
More info here: https://southwarkcyclists.org.uk/66-in-a-20mph-zone/