August 17, 2016 @ 8:00 am

-

8:45 am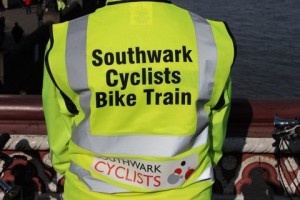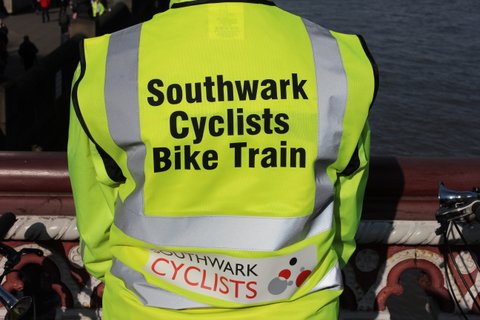 Join the famous Southwark Cyclists Bike Train — London's first. Fun and free.
We start at 8am from Nunhead Station and pick up riders from Peckham Rye station (from the bike stands behind McDonalds) at 8.10am. We are joined by riders from Denmark Hill who leave that station at 8.10am (from outside the cafe in Windsor Walk) and join the train in Burgess Park.
Our route takes us through two parks, north along a traffic-calmed backstreet, onto the pavement-cycling lanes along the New Kent Road, around the Elephant and Castle bypass and then onto the lovely new TfL segregation all the way to Blackfriars. Arrival time approx 8.45am.
From there riders are taken on by individual arrangement and we have taken people to Mayfair, Kings Cross, Faringdon and Tower Hill. All easy, legal and free. Return rides arranged individually.
To book your seat at Denmark Hill text Liz Eden on 07814 515 715 or at Peckham or Nunhead contact me on 07842 640 207 — or don't book anything at all and just turn up. All welcome. Free.