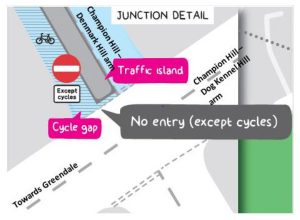 Southwark Council trialled a one way modal filter on Champion Hill in 2019. In early 2020 the council consulted on making the vehicular no entry permanent. As part of their Covid-19 transport response, the experimental traffic order for the change was extended an additional 18 months. This means it still needs your support.
Email councillors and Southwark Council today to tell them you support this scheme and want it to be made permanent. We have a template to help you write your email. Email the councillors for the area, Sarah King and Peter John, and include Cabinet Members, Southwark Highways and the MP.
To: sarah.king@southwark.gov.uk; peter.john@southwark.gov.uk
cc: catherine.rose@southwark.gov.uk; johnson.situ@southwark.gov.uk; radha.burgess@southwark.gov.uk; kieron.williams@southwark.gov.uk; highways@southwark.gov.uk; harriet.harman.mp@parliament.uk
We fully support this scheme as it has greatly reduced traffic on this rat run and monitoring of the trial has not shown a significant increase of traffic across the surrounding area.
In fact, removing this filter may result in over 5,000 vehicles per day returning to non-A roads in the immediate area. The map below shows social housing in the Champion Hill area. The filter and route impacted is highlighted.
This would dramatically increase road danger (read below) reducing the quality of Cycleway 17, while the council improves other parts of it. DfT data shows that traffic on minor roads in London has nearly doubled in the passed decade while slightly reducing on A roads. Measures like this help manage the road network while creating safe space for walking and cycling.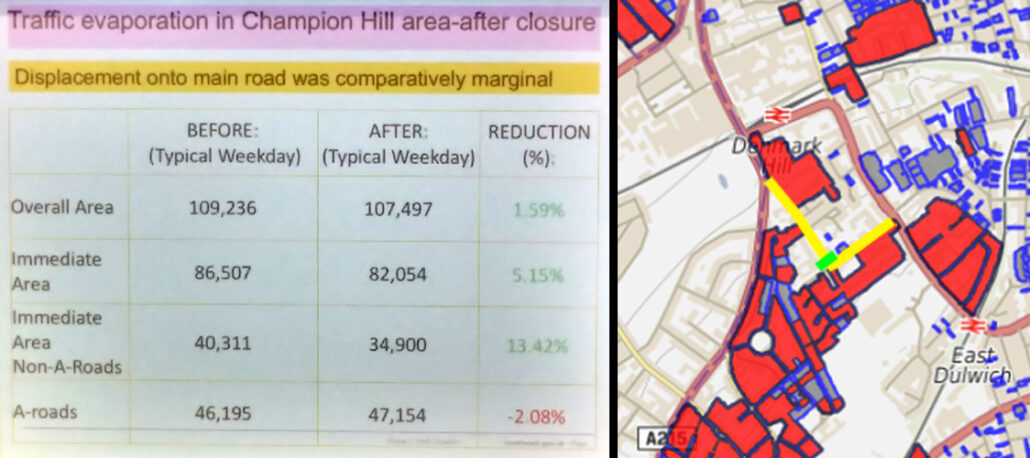 There are concerns about impacts to main roads in the area, and after closely analysing the monitoring report, we've found there is no evidence to support claims that there have been significant negative impacts.
Overall, we feel that:
The Champion Hill 'No Entry', along with other projects along the Cycleway 17 route, will enable more people, of wider ages, to cycle in the area.
While the report shows an increase in northbound traffic on Grove Lane, there is a decrease of the same magnitude in the southbound direction during peak times.
Bus times show no statistical change which is a sign of no substantial increases in congestion.
The report does not show increased air pollution in the area since the start of the trial. Nitrous dioxide levels measured at Dog Kennel Hill School have followed trends of other measuring sites, which have fallen year on year.
Reducing rat running traffic on minor roads leads to safer streets. Research shows there are more deaths and serious injuries on minor roads versus roads built for a greater capacity, per mile driven.
Context
Southwark Council installed a one way filter in February 2019, preventing motor vehicles from using Champion Hill to drive from Dog Kennel Hill to Denmark Hill. The council monitored the area until September 2019 and prepared a report. The consultation is asking if this filter should be kept in place, as well as proposing improvements to the junction with Dog Kennel Hill, on the basis these are essential to meet TfL's quality standards to deliver Cycleway 17.
The need for this change is not just to create a safe cycling route along Champion Hill but that, in the past few years, with the advent of WAZE, Google Maps and Sat-Navs, large volumes of traffic were increasingly being channelled along Champion Hill in order to shave small amounts of time from motor vehicle journeys. From being a relatively quiet road, Champion Hill has become overrun with fast and potentially dangerous driving, especially at peak times.
The filter resulted in reducing traffic flows by 55% during AM peak times, resulting in 340 less vehicles on average during 8am and 9am.
Quietway 7
This route is part of Quietway 7 and will become Cycleway 17 when it is adopted under TfL's new cycling route quality criteria. In order to be able to achieve these minimum quality standards, traffic at peak time needs to be reduced to 500 vehicles per hour. The trial has achieved this by reducing traffic by over 300 vehicles per hour at peak times.
There are proposals for improvements in Walworth, Camberwell, and Dulwich Village along the Cycleway 17 route. If this trial is not made permanent this will create a weak link in the route which will deter new people from taking up cycling and lead to the modal shift from driving that is necessary during the climate emergency and to reduce air pollution. The Champion Hill no entry is a key element of this cycleway.
Traffic Increases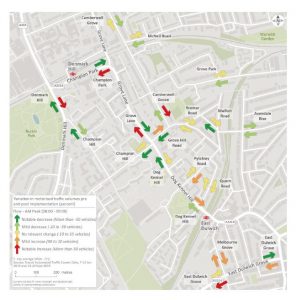 There is a concern about increased traffic along the main roads of Grove Lane and Champion Park, parts of which are residential. The report shows increases in northbound traffic along Grove Lane and westbound traffic along Champion Park but decreases in traffic in the opposite directions of a similar magnitude. It is important to consider traffic in both directions when considering traffic volume impacts. When considering both directions there is no evidence of significant increases in traffic volumes.
Bus times were also measured before and after the trial. There was no significant journey time from Dog Kennel Hill junction to Denmark Hill Station. The report concludes that there has been no significant increase in congestion due to the trial.
Another concern is the increase in traffic along Camberwell Grove and East Dulwich Grove. The report states this is unlikely due to a link to the trial. There are many factors that impact traffic volumes in a road system, and through studying the report it was determined that external factors would have had a greater effect than the trial itself. For these same reasons there is no reason to assume this would have caused traffic increases in areas further away like Dulwich Village.
There have been claims that there has been an extra 1,000 vehicles a day on Grove Lane. This increase is due to an increase across A-roads in the overall area, including Denmark Hill and East Dulwich Grove. As mentioned about increases on East Dulwich Grove are unlikely to be due to the trial. This accounts for an increase of only 2% on these roads. All roads in the immediate area have seen a decrease of traffic of almost 4,500 vehicles a day. This information was shared at a public meeting about the Our Healthy Streets: Dulwich consultation.
Finally, it can take a year or more for traffic to settle after road closures, and the study only considers 7 months of data, so we can still expect a further reduction in traffic. There are also planned projects in Dulwich Village and Camberwell, and with TfL's commitments to low traffic neighbourhood schemes, we can expect to see more in the area. These, along with CPZs being rolled out in the area in the Spring will further reduce traffic in the area as people have safe active travel alternatives.
Air Pollution
There is a similar concern that the trial has increased air pollution on Grove Vale and the schools in the area. This cannot be concluded from the trial, and we do not believe it is likely given the data. The measurement data from Dog Kennel Hill School, which is at the intersection with Grove Vale, shows a trend of falling nitrogen dioxide levels in the spring months. This follows levels at the other sites in the area. If nitrogen dioxide counts had increased at the school from the previous year, it would not have followed the trend of the other sites.
Monitoring shows that traffic along Camberwell Grove has increased since the trial began, yet nitrogen dioxide levels have decreased. As stated above, increases in traffic along Camberwell Grove are unlikely due to the trial. With all the data available, it cannot be concluded that there has been a significant increase in air pollution in the area.
It is important the council keeps measuring air pollution in the area and mitigate any increases through appropriate measures.
Road Safety
There have been studies that have looked at the impacts to our roads due to navigation apps like Google Maps. These apps cause traffic to navigate on minor roads to save seconds for drivers.
Dr Rachel Aldred, Reader in Transport at the University of Westminster, concludes that "Each mile driven on a minor urban road, results in 17% more killed or seriously injured pedestrians than a mile driven on an urban A road. For slight injuries, there are 66% more pedestrians injured per-mile driven on minor urban roads, compared to each mile driven on urban A roads."
The most effective solution is filtering minor roads to through traffic, exactly what has been done by the Champion Hill no entry.
Conclusion
The monitoring report does not show a significant increase in traffic volumes, congestion, or air pollution on surrounding roads and there have been great reductions to traffic levels on Champion Hill. It is also important to consider this filter in the context of other improvements in the area. Projects in Dulwich Village and Camberwell Grove have the opportunity to lead to traffic evaporation in the greater area, which can include the area of the Champion Hill trial. The area should continue to be monitored and if increases in traffic volumes and air pollution are seen, further mitigation should be taken to address those areas. We should move forward, not backward to enable active travel and reduce car journeys on our roads.
Respond to the consultation (closes 15 March)