A bonanza exploration of 35+ parks and green spaces – some famous, some hidden away. All within a 3km radius of the start in Burgess Park. Two windmills, Van Gogh, a submarine, a zoo (now defunct), and a near-miss prison visit as a bonus! Suggested coffee stop at the Pear Tree Cafe on Clapham Common (toilets). Easy riding on quiet roads and cycle routes, and through some parks.
About 25km, 100m elevation, allow 3 hours if you are stopping to look at things/take photos etc.
Start Burgess Park Cafe. Ride clockwise.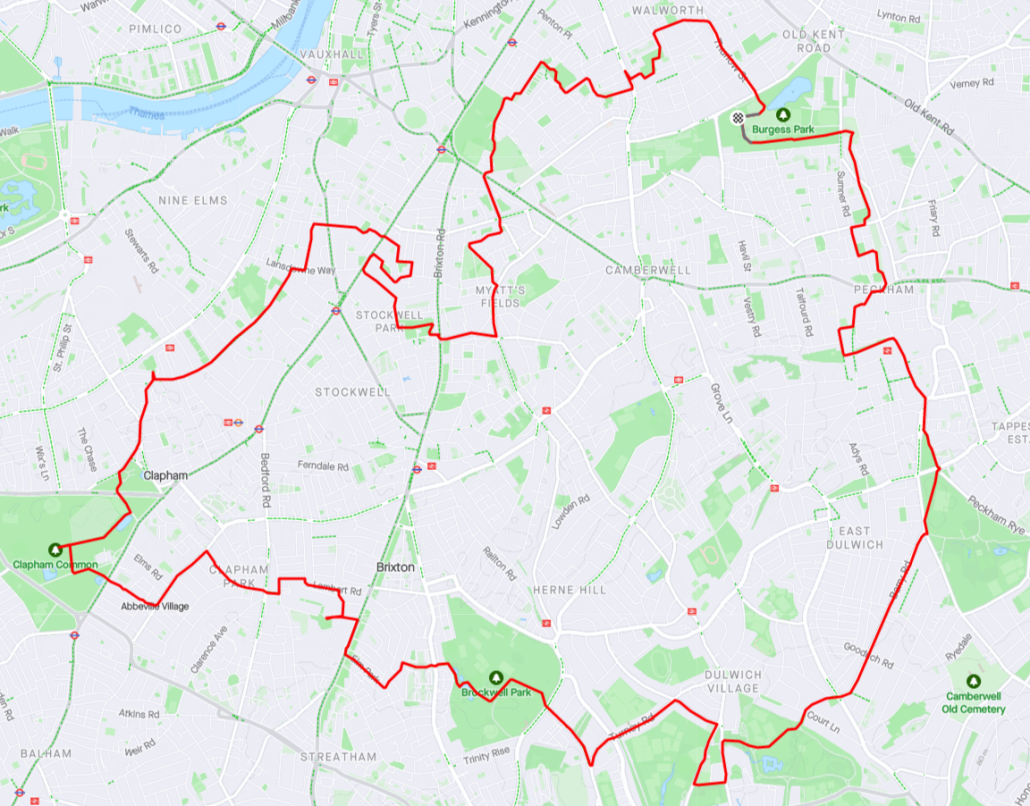 Use this GPX file to get accurate routing:
For reference, the ride visits the following parks/spaces:
Burgess Park
Surrey Canal Walk
Jowett St Park
Sumner Road Park
Bellenden Road Nature Garden (locked)
William Griggs's Garden
Warwick Gardens (of www.insectinside.me fame)
Holly Grove Shrubbery
Peckham Rye Common
Dulwich Park
Small enclosed area by Lover's Walk in Dulwich (locked)
Belair Park
Dulwich Estate Village Orchard
Brockwell Park
Rush Common
Brixton Windmill Gardens
Clapham Common (with The Windmill pub)
Eden Nature Garden (St Paul's Churchyard)
Larkhall Park
Oasis Nature Garden (locked) (Stockwell bus garage – Europe's largest unsupported roof span when constructed in 1952, https://en.wikipedia.org/wiki/Stockwell_Garage)
Lansdowne Gardens (small detour from gpx)
Albert Square (locked)
Van Gogh Walk
Durand Gardens (locked)
Slade Gardens
Max Roach Park (north) (Dan Leno blue plaque)
(Camberwell Submarine, https://www.layersoflondon.org/map/records/camberwell-submarine)
Eythorne Park
Dan Leno Gardens
Kennington Park (with Henry Moore artwork https://en.wikipedia.org/wiki/Brandon_Estate)
Doddington Grove Garden
Walworth Garden
Pasley Park (and Royal Surrey Gardens, https://en.wikipedia.org/wiki/Royal_Surrey_Gardens)
Pelier Park
Fielding St Allotments (locked)
St Peter's Gardens and Faraday Gardens, via Liverpool Grove
Nursery Row Park
Surrey Square Park (small detour from gpx)
Sadly, not all are open to the public. (And some are small!)
Back to Healthy Rides Home page.